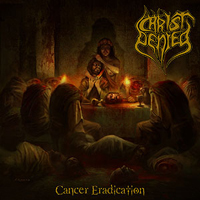 Legendary spanish Brutal Christophobic Death Metallers CHRIST DENIED, who got reactivated in late 2011, have been hard working on their long awaited sophomore album after their acclaimed debut in 1996 "…Got What He Deserved" and various split CD's and their collection CD "Drink… Drink the Blood!" from 2004. This work has resulted in 8 new songs plus a cover song of IMPRECATION which will be featured on the new album that will be entitled "Cancer Eradication", that continues where the band left, combining all elements of their different recordings and for sure will not dissapoint any of their fans.
Recordings are almost finished and the album is expected to be released during the first days of June, right before the very first shows of the band in its history. Yes, CHRIST DENIED will perform live, something unthinkable until Roger Infected joined the band replacing David Nigger.
As soon as the recording, mixing & mastering process of the new album are finished, the band will post one advance song on their official Facebook as well, so keep an aye open for it!! The war against christian hypocrisy is fiercer than ever and CHRIST DENIED are already embarked on their second crusade to eradicate the worst cancer of humanity!!