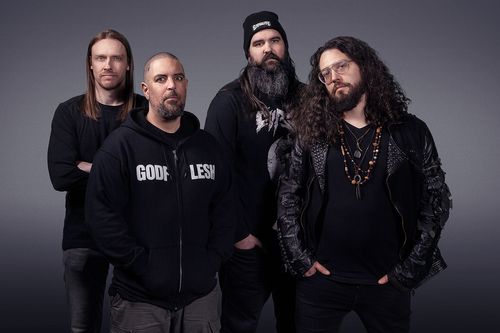 Mastermind and guitarist André Marcussen has stepped out of the shadows of the past with his project CHILD OF CAESAR and recorded the sinister follow-up to 2015's album "Love In Black" with the current line-up. Heavily 90s-influenced Gothic Metal paired with wistful melancholy and inner strife forms the basis. On the new monument "Spirit & Liberation" with its eleven songs also, Punk and Black Metal influences play a role and thus adding raw and wild moments to the foundation. The voice of the new singer Patrick Pagliaro fits ideally to this. Sometimes scratchy-driving, sometimes gloomy-melodic, but always with the right pinch of audacious energy. The band already provided the first glimpse at the beginning of 2021 with the unfortunately prophetic anti-war lyric video for "Your Eyes On Me". The recording and mixing of the album, which will be released via Dr. Music Records on 08/26/2022, was done at guitarist Christopher F. Kassad's Tones & Tunes Studio, and for the mastering, the musicians once again entrusted Mika Jussila of Finnvox Studio (Amorphis, Solstafir, Nightwish). For the artwork, the band leader relied on the outstanding artist Eliran Kantor, who caused a sensation with impressive cover oil paintings for bands such as Kreator, Tristania or My Dying Bride and Thrashwolf graphic designer Logan Francis Gray (e.g. Metallica, Slash, Crowbar) for the layout. The songs of CHILD OF CAESAR are an equally sinister feast for the ears of Goth fans and metalheads who miss the ferocity of Tiamat's early records while appreciating Satyricon and not denying themselves the punky Bad Religion vibes. This extraordinary blend makes "Spirit & Liberation" a captivating experience.
2011, André Marcussen gathered an illustrious group of musicians from the Metal underground, such as Autumn Eyes singer Daniel Mitchell, to realize his vision of Metal beyond the mainstream. Four years later, CHILD OF CAESAR first attracted attention with dark, avant-garde Gothic Metal on their debut "Love In Black". Now, the follow-up "Spirit & Liberation" is finally being released and shows a more multi-faceted band that will cause a furor with its relentlessly wild Dark Metal kaleidoscope. New at the mic is Patrick Pagliaro, who, just like bass player Tobias Habel, has made a name for himself with the bands Slomind and Bunghole. Guitarist Christopher F. Kassad (Ex-Jesus On Extasy, Aeranea) is also part of the band and Felix Haun (Karabooza) provides a lot of punch on the drums. The album's opener is "Scorpion", which is inspired by the ruthless assault by religious fanatics on the Bataclan club in Paris in 2015. "Ritual Summer" is rooted in the summer of '69 and references its shady sides with the Manson murders, drug abuse and the escalating Vietnam War. The lyrics to the first single "Seven" revolve around youth and its rebellion against a slave morality system and the grandeurs of ethics and human reason. Appropriately, the band has produced a haunting, menacing music video with Maria Goruleva of All4Band Design (e.g. Ignea, Diamond Head, Doomeye). "Exitus", CHILD OF CAESAR's second single, accompanied by a lyric video, is a stormy ode to death, with brutal Old School Death Metal growls soundtracking the hazy thoughts just before the final breath. It continues with the quieter "San Francisco", a melancholic doomy Gothic Metal adaptation of Scott Mackenzie's hippie-era cult song. For this, English video artist Andy Pilkington of Very Metal Art (Rotting Christ, Skindred, Ascend The Hollow) has produced an atmospherically oppressive lyric video.
With "Spirit & Liberation" CHILD OF CAESAR have created a multi-layered masterpiece of sinister Goth Metal sound art with profound lyrics about sensitive thoughts on life and death. The new songs take the fundamental humanistic undertone of André Marcussen's project to another level with his homage to a mature world without gods and religion. Lovers of gloomy albums with a 90s Dark Metal feeling will get bright eyes when this menacing album unfolds acoustically in their four walls.