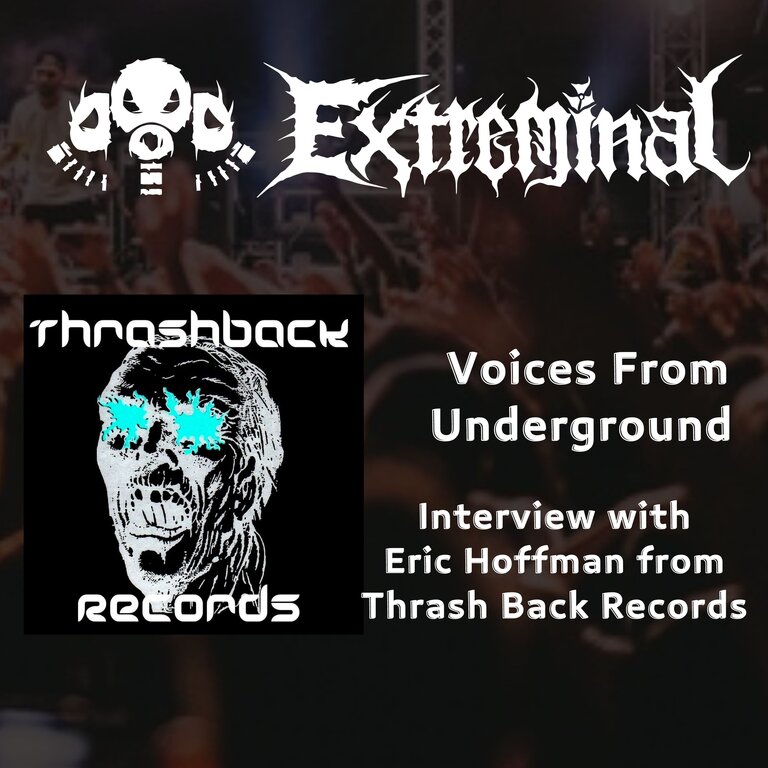 Where were your born and where did you grow up?
EH: I was born in Taunton, Massachusetts (in between Providence and Boston) and moved to South Florida at 7, so I'd consider myself a Floridian. I grew up in Jupiter, which at that time was just a small city in northern Palm Beach County. I moved to Ft. Lauderdale at 18 to go to school and stayed there (1991).
What sort of kid were you growing up? Did you have a lot of friends?
EH: I guess pretty typical until 1980. I was in first grade and heard "Hells Bells" on the radio in my father's car. We got to the mall and I asked him if we could go to the record store to get what I just heard, and out I walked with AC/DC's "Back In Black" in my hand. Everything changed that day.
What sort of teenager were you? Were you at this point starting to get into music at all?
EH: Well, I was immersed in music already, that's all I wanted to do. So it was buying/listening, trading, practising/rehearsing, did a crappy fanzine for about a year called "Metal Mercenary".
Did you ever pick up an instrument at all in your life? If so, which one and did you ever join any bands?
EH: Yes, I picked up the guitar when I was about 11 and took lessons for a while just learning the basics (Chords/scales). It wasn't until I was in 7th grade that I started to actually write. That credit I give mainly to the guys in Fatal Sin, a tech/thrash band that was based in Boca Raton.
For 7th and 8th grades I went to a Lutheran school and Adam Riewald (Fatal Sin) was one of my classmates. We both played and would jam together often, though he was miles ahead of me. It was through that I began to learn how to write and formulate songs.
It was during my freshman year of high school that I joined my first band, THANATOS. We played two shows before splitting up. We were always recording rehearsals on a boombox with a single microphone, and since I was already trading and collecting 'zines, I took it upon myself to send some that stuff out. We had actually gotten some decent reviews for the music in F.E.T.U. out of Japan and Morbid Magazine out of Norway. I really wish we had done a proper demo.
In my sophomore year of high school, 3 of us (myself, drummer Dan Schulster, and the original Thanatos vocalist Mike McElreth) formed a new band called THERION and played a few shows before splitting up.
In my Junior year I played with various people and eventually formed the band FINAL PROPHECY with drummer James Silvestri and bassist Nick Varhola. We recorded 2 proper demos, "He Set The Captives Free" in 1990 and "Rude Awakening" in 1991, with the latter getting us very good reviews in many 'zines. We played many shows before finally splitting in late 1991.
After that, I briefly played with a band called ROYAL ANGUISH. I decided to leave Florida for a few months to do part of my school credits in Ohio (audio production & engineering) and while I was there they decided to go with another guitarist. This was fine as I was losing interest in the playing side anyhow and was far more interested in the studio and business side at this point.
Having said that, there was one song I had written and brought to the table with ROYAL ANGUISH called "Through Eyes Of Fire" that I wanted to get on tape before fully closing that chapter. So I booked a few hours at Hide-A-Way Studios in 1992, a small 8-track studio, and got then ROYAL ANGUISH drummer Tommy Taylor to play the drums for me and a dude named Howard Card (guitarist for a band called HABITAT) to play bass.
Fast forward to 2018 and all the FINAL PROPHECY stuff was released by Roxx Records in California on CD and vinyl.
Now when did you discover underground music and what were some of the first bands you heard? Are you still a fan of these bands these days?
EH: My first exposure to the underground were local bands. There were a handful of all-ages clubs here, as well as shows at skating rinks, peoples houses, warehouses, and parties. Bands that stood out were INTRUDER, PARAMOURE, CRAZY AGNES, VULCAN, MELTDOWN, STENTORIAN (who would later morph into Saigon Kick), VANDAL, LADY SABRE, WARINSTOCH, REVELATION, etc…
By the time I hit high school is when thrash and death metal were ramping up here in South Florida. RAPED APE, ELYSIUM, AMBOOG-A-LARD, FATAL SIN, HELLWITCH, CYNIC, TEMPUS FUGIT, MALEVOLENT CREATION… It was an amazing scene and time. Speaking of HELLWITCH, the first time I met Pat Ranieri he was playing bass in a hardcore band called THE RAGING PUSS BAGS (opening for RAPED APE) and we hung out in the parking lot of the venue talking about Paul Gilbert and Racer X.
As for stuff outside of the immediate local scene, I began to discover underground bands through newsstand magazines such as Metal Mania and Aardschok America. Through these two alone I ordered the "Metro-Mercenary" 7-inch from SIREN out of the Tampa area (first I ever ordered, actually), WICKED ANGEL (Texas), ANNIHILATOR, SADUS, CALIGULA… every time I had cash in hand I'd order something.
As for fanzines, the first one I discovered was called OUTRAGE (which would later become D.B.N.). Through that is where I saw ads for F.E.T.U., Morbid, Wild Rags, etc… which opened up a whole other world.
As for still liking bands… absolutely. I see it this way, even when tastes expand and grow, you'll always continue to love the music that shaped you, otherwise, you were never truly a fan, to begin with.
Now before you started Thrashback Records, did you work for any prior record labels or have any kind of record label experience? If so what labels and what did you do there?
EH: Long history here… After finishing up my audio schooling (1992) I started freelancing and the second recording I ever got hired to do was for ROYAL ANGUISH, a 4 song demo titled "Shocked To Pieces", which was done in a cheap 12-track studio (half of a duplex that was converted). So for some reason, I got the idea to start a label to release a cassette EP for them, which became "Shocking The Priest".
The label was A.R.T. Records and released 4 cassette E.P.'s and 4 7″ EP's and was set to do full-lengths for ROYAL ANGUISH and NONPOINT FACTOR and then were offered to merge / partner with a new label, Conquest Music Group. This sounded like a great idea at the time, especially having an in house studio to be able to do the albums in. Then the foundation began to crack.
Several months in one of the two partners on the CMG side all of a sudden decided he didn't like either of the bands and wasn't interested in recording their albums. I ended up taking NONPOINT FACTOR to the same studio where we did their "Depression '94" EP to get their album recorded and decided to do the ROYAL ANGUISH in Conquest Studio and hire the other partner to record that one.
While working on these the next set of cracks began. With NONPOINT FACTOR we were already getting a Midwest tour together for them. The promoter was getting the shows booked and we printed up about 1,000 promo cassettes with two rough mixes from the upcoming album, which we had drop-shipped directly to the promoter. As we were getting set to begin the mixing stage of the album, I got a phone call asking why we were cancelling the tour, which I knew nothing about. Turned out one of the band members did that. I got on the phone with the band and one of the members decided he didn't want to lose his job (which was all discussed prior). We weren't about to continue to pour the limited money we had into a band that weren't going to keep those commitments so we effectively stopped working on the album and parted with the band.
The next crack came with ROYAL ANGUISH. We had gotten three songs into the album when we were told that they decided that they wanted to merely be a studio band and not tour. The same scenario, we opted to stop working on the album.
At this point, I was discouraged and burnt out and cut my ties and moved on. After a break to regroup I started U.R.I. Entertainment that solely focused on international licensing, getting indie bands and labels overseas deals to release their albums and acquire publishing. With this, I would shop the recordings and negotiate the contracts. Through this, I had done deals with Alfa Records (Japan), Underground Symphony (Italy), Noise Records, InsideOut Music, Dream Circle (Germany), Limb Music Publishing, Warner-Chapel Music Publishing, etc…
After several years of doing this one of my clients, Dominion Records, had an EP available from a defunct band called TANELORN that the label owner once played in that I really liked so I asked him about putting it out myself (1996). So we worked a deal for a 1,000 unit pressing, I slapped the name Progressive Arts Music on it, and it ended up selling out rather quickly. So then I decided I wanted to release a compilation featuring bands I had been working with on licensing deals since at this time U.S. labels weren't giving them the time of day. It was called "Up From The Underground" and focused on more Prog oriented bands and included Opposite Earth, Without Warning, Tiles, Psycho Scream, The Quiet Room, etc… This was in 1997. While putting this together was looking for a local CD manufacturer and called the number in an ad and it turned out to be one of the former Conquest owners. We talked for quite a while and I decided to go through him. Start of next chapter…
Through this, we talked more and I was told all the things that had gone down were due to his former partner and now he ran the studio on his own and was running his own label focusing on Miami Bass and was wanting to release Rock oriented stuff. He liked a lot of the stuff on the compilation and asked if I'd like to run a Metal division for the company. He liked the name Progressive Arts, so that became the sub-label. In going back I signed bands, did all publicity for all releases (four label imprints in all), and licensed. We did releases for WITHOUT WARNING, OPPOSITE EARTH, DOFKA, KLANK, HEAR HERE, etc… The company was starting to do quite well, especially with the Miami Bass stuff in Japan, and then a bunch of the same shit started to surface again. This essentially told me the issues were not with his former partner. At the end of 1999, I bailed. The last release I put together was the HELLWITCH collection "Final Approach".
After leaving I decided I wanted to keep releasing music and continued as Progressive Arts Media (thankfully I was allowed to have the name back) and focused solely on instrumental releases, as well as my other passion at the timed, Mixed Martial Arts. On the music side, I had one very well selling release, one that made it to the Grammy nomination ballot for Best Contemporary Jazz Album (didn't make it to the nomination stage though), and the others did mediocrely. On the MMA side of things, I did great. I decided at that point to kill the label and focus 100% on MMA and Brazilian Jiu-Jitsu DVD releases. I had a great decade long run and the writing began to appear on the wall. Distributors and One-Stops began to go out of business, mom & pop and big chain stores were shuttering.
At this point, I decided to move on and took a regular job, and then came 2016…
Since I don't know your exact age Eric, did you grow up during the age of tape trading and fanzines being made and great days of Combat, Noise, Metal Blade Records, etc?
EH: I just turned 48. And absolutely. I was in 4th grade when I began to first be exposed to releases from those labels, so late'83 / early '84. First, three I bought were METALLICA "Whiplash" EP, SLAYER "Haunting The Chapel" and STRYPER "Yellow & Black Attack". As for 'zines and trading, I covered that earlier.
Did you ever do any writing and if so was it for a fanzine or an actual magazine?
EH: Yeah, I touched on that earlier. The first bit of writing was for the THERION newsletter which we called "Total Overload". I reviewed local demo releases. After that, I did a few issues of my own 'zine called "Metal Mercenary". Nothing major and it sucked anyhow. Hahaha…
Now in what year did you think you wanted to start up your own record label? Was this going to be your baby only so to speak or did you have a partner with you?
EH: I touched on that a bit above. With A.R.T. I did have a partner, an older woman, who I met through the then bassist of ROYAL ANGUISH. I had a clear view of where I wanted to see it go, but being young a too trusting, bad decisions were made that brought it to a point where it had to be put to rest, with the final nail being the merging into Conquest Music.
As for ThrashBack… That idea came in 2016. In October of 2015, I received a message via Facebook from Chris Rutherford, who was the other owner of GLED Recording Studios I talked about earlier, with a photo of a box that had almost all of the A.R.T. masters in it. Turned out he had them in a closet for those 20+ years.
In February of 2016, he finally sent them to me and then it took a bit to find a studio that had a DAT machine (I was in Greenville, SC at this point), which I finally did another month after that just outside of Ashville, NC (Southeastern Sound… Buddy Strong, you rule).
It was while doing the transfers that I started thinking of starting a label again.
Now early on, did you know exactly what needed to be done to make it happen? What that what you planned on doing, just re-releasing old out of print releases or were you hoping at one point to have a band go in the studio and actual release something?
EH: Having already been in the business via A.R.T., and then heading up Progressive Arts Music, I already knew how it all worked, even though the industry has vastly changed. It really was a matter of deciding what to start with, comparing manufacturers, and then putting the wheels in motion.
Yes, the plan was just to focus on reissues and to do some co-op releases with newer and reactivated bands if those opportunities arise, which one already has with Chile' BETRAYED.
Now how did you come up with the cute and catchy name "Thrashback Records" or did you just ask Whiplash if you could borrow it ha ha?
EH: Definitely didn't come from the Whiplash album. It actually came from a CD I was listening to that was issued on Rhino Records sub-label Flashback.
Now take me through the steps of putting out your first actual release. How many bands, in the beginning, did you try and seek out before you struck gold and you found a band willing to work with you? Is it hard to try and search out old releases to see if they are totally out of print and that the band's label has folded and that the band has the right to their music?
EH: After transferring all the DAT tapes the initial idea was to release all the FINAL PROPHECY demos on CD. This was easy as it was my band and I had kept everything (photos, reviews, etc…). As I began putting that together (cover art, editing & mastering, layout mock-ups), and posting updates on Facebook, I was contacted by Roxx Records in California about releasing them. I initially said no, but then they offered to also do vinyl (which I wasn't planning on), so I licensed it to them. Back to square one.
The next idea was to reissue the recordings from old high school friends REVELATION. I contacted former vocalist Mike Roy first. He was into the idea and started contacting the other members of the band, who were also into it. Mike gathered up everything he had and mailed it to me and I got started with all the scanning of photos, etc…
At first, we thought we were going to have to work from cassettes (and thankfully Mike still had multiple copies in pristine shape archived away) so I transferred those and got all the restoration work out of the way (audio cleaning and editing) in preparation for mastering.
Right before uploading the audio for my mastering engineer I get a message from the bassist (Brad Brothen) saying "Look what I found in my basement". Behold, the original 1/4″ masters for both the demo and album. Also in that box were the original elements used in manufacturing the album back in 1988 (art, band pics, logo). The project goes on pause.
Once I got those it was a matter of, again, finding a studio with a 1/4″ two-track machine. Once again it was Southeastern Sound to the rescue. Once the audio was transferred I quickly went about restoring the audio and got everything to my mastering engineer.
Now that we had the original cover art it was a matter of getting that restored. That job was done by Scott Waters from No Life Til Metal. All the layout work I also do in the house.
With everything ready, I then began thinking that it would be great to include a visual document of the band to be included with the CD. I had one full show in my archive (my old band Thanatos had opened for them that night) and inquired with Mike about the video. Luckily he had several tapes archived and sent to me.
From there I transferred everything, restored the audio (hiss, pops, other noise), reframed the video, and did all the editing. When all was done we ended up with a full show, bonus live footage, and a behind the scenes reel of various rehearsal & tour footage.
As far as seeking bands out… Honestly, I don't cold call. I'll put out word every so often of "bucket list" bands/demos and I've either been put in touch or been contacted. With PSYCHIC PAWN, that one came through Alex Marquez. Turned out guitarist Micha Kite is his roommate.
Is it hard at times with some bands you want to work with, but can't because their music is # 1 not their own or they don't own master copies of the release you want to put out, or just in general it just becomes a lot of political bullshit and you just say "fuck it" and move on?
EH: I haven't run into masters issues when talking to bands, but the political stuff, yes. You also run into the "why bother" reason, which is the lamest reason anyone could give. Be grateful there are people who do care, even if limited in scope. There's one old South Florida band very high on my bucket list that I'd love to see get over that political hurdle. As a die-hard fan of their 1990 and 1991 demos, it would absolutely make my day to be able to do a release.
The oddest one was with a killer newer thrash band from the U.K. Kickass album that you don't see anyone in the States carrying. I approached them about doing a limited run deluxe edition release for North America, a CD/DVD combo. They said no to that and wanted to only handle their releases themselves, which is fine. Then I said I'd like to sell their pressing here and asked for wholesale prices. They asked me how many copies I wanted to buy, I tell them, then a complete blow off. Makes no sense whatsoever that the band wouldn't want to sell more units than they would otherwise.
But, most typically it's been "why bother, who cares" or just no answer at all.
Now tell me about your first release. What were the name of the band and the release you put out? How difficult was it to get this release out and how long before the time you wanted it to come out, until the time that it actually came out? How were the sales for this release and is it still for sale?
EH: This was covered above, as far as the detail goes. The short pause to do the extra work delayed it three months from October 2017 to January 2018.
Sales wise, a little slower than expected in the beginning. Once word spread a bit it picked up with the vast majority of sales being from Europe. It is still available, but the remaining quantities are getting low.
Now early on did you have a complete vision for the label and what you wanted to accomplish with it?
EH: Absolutely. Covered that earlier, so I'll spare a repeat.
Any bands that you wanted really bad to work with, but things didn't want to work out in the end?
EH: Only a few. As mentioned earlier, there's one I'll continue to poke at.
Are there bands that reach out to you about putting out their music whether it was something from years ago or is more current?
EH: I do. One release we're putting together right now from SOOTHSAYER out of Arizona came about this way. The PSYCHIC PAWN release half came about that way.
Bands are always welcome to contact me either by email or Facebook.
Are you always on the lookout for bands and is it just mostly releasing old demos onto CD and also old releases that are out of print, back into print?
EH: We covered this earlier.
Now is it just thrash metal you are interested in, or can it be death, power, or heavy metal too?
EH: Thrash and Death Metal are the primary interests, though I'm open to other stuff. REVELATION was straight U.S. Metal. The SOOTHSAYER straddles the line of Thrash and U.S. Power Metal.
Now, do you get your stuff pressed at the same place all the time and do you do vinyl much?
EH: All our CD titles are done with the same manufacturer. We just started doing vinyl in May and use a different company for those.
With vinyl releases, we started with REVELATION. Our one is just about to come out as I type, "The Record of Armageddon", which we teamed up with Ed Farshtey from Armageddon Productions on. In December we'll be issuing the BETRAYED release, and early next year the 1989 demo "House of Fools" from Indiana's SHADES OF GREY.
Now, do you have places where you have worked out deals with any overseas labels to carry your stuff?
EH: At present, our titles are being carried by Underground Power (Germany), Selfmade God (Poland), and Ripping Storms (Italy). Select titles are available in Australia through Soundmass Records.
Now you have been around since 2018, is it tough in this age to sell the actual product as you have people mostly downloading stuff, how have sales and overall feedback been since you started the label?
EH: Sales are steady and we've been building a steady customer base. Since we're not a traditional type of label we don't have a need to market like Metal Blade or Century Media.
Has anything you put out, not sold as well as your thought and on the other hand, has anything sold better than you thought it would?
EH: Yes. The NONPOINT FACTOR release started off strong and fizzled fast. FATAL SIN started slow and then began to take off. Both are the opposite of how I figured they'd play out.
Do you like to include bonus tracks on your releases or make them double discs?
EH: Either one, depending on what we have to work with. With the PSYCHIC PAWN, it made perfect sense to present their "Decadent Delirium" album and the two demos on separate discs. On the flipside, with REVELATION I couldn't see taking a 3-song demo and giving that its own disc. If good footage is available I'm always open to CD/DVD sets.
Do you search the internet in search of old releases that have not come out yet or are out of print and then try and find old band members? Which band so far was the toughest to find?
EH: I do, as well as putting the word out in the hope people I know have the 411. A few I'm really interested in are Killpower (New York), Sneak Attack (New Jersey), Darkend Fate (Missouri), Humanicide (Alabama), Mercynary (Texas), Salem (Japan)… If anyone is able to help out it would be greatly appreciated.
Do you get many bands saying thanks, but no thanks and don't want their material re-released?
EH: As mentioned earlier, just a few.
Thoughts on bootlegs?
EH: I don't personally seek them out and am not a fan. On the flip side, I saw a bootleg of the FINAL PROPHECY stuff and did find it flattering.
What are your plans going into 2021 and beyond?
EH: For the rest of this year, we've got two limited-run vinyl titles coming out.
On October 8th is "The Record of Armageddon", a compilation I approached the mighty Ed Farshtey (Book of Armageddon 'Zine, Rage Records) to work with me on. We each chose four bands (or three and a half as False Prophet was both our choices) and Ed wrote all the liner notes for the album insert. Pressing is limited to 200 units.
On December 10th is the vinyl pressing of "The Unbeliever" from Chilean thrashers BETRAYED. This one is limited to 100 units.
If there are no more hiccups, also on the slate for the year are SOOTHSAYER "We Came For Killing" and another compilation, "Chronicles of Mosh", which was put together by Soulgrinder 'Zine. Both are CD only releases.
For 2022, on deck so far are vinyl releases for Indiana's SHADES OF GREY ("House of Fools" 1989 demo) and the "Decadent Delirium" album from PSYCHIC PAWN. Cacophonous Records never issued it on vinyl when it was released in 1994 so we're going to give it its due. Ed Farshtey and I are also talking about "The Record of Armageddon 2".
On the CD anthology front, we're looking at releases from Indiana's SEA OF TRANQUILITY, and fingers crossed, a very obscure Florida band CRAZY AGNES.
There are several others in the planning stages (including two vinyl-only releases from a very beastly old South Florida band), but I can't quite get too specific right now.
Please plug in any social media sites and your website.
EH: On Facebook just search @ThrashBackRecords. Our store site is
www.thrashbackrecords.bigcartel.com.
Eric thanks for doing this interview and horns up for doing such a great job with the label, the last words are yours, my friend.
EH: No, thank you. It was an honour as you've been such a staple of the underground metal scene for decades. And thanks for being patient in waiting so long for me to get this finished up.
To those already buying ThrashBack releases, thank you and we appreciate you. If you're hearing about us for the first time, I hope you become a supporter. HORNS UP!!!