Ceremonial Castings began in the late fall of 1996. The band was founded by still existing members Jake Superchi (Lord Serpent) & brother Nick Superchi (OldNick). The basis of the writing & the lyrical foundation strived on the art of black magic, witchcraft & rituals that could only lead to the name of Ceremonial Castings.
Hailing from the town Battle Ground which is located in the dark forests of Washington state (USA) it is no surprise that the curses that are spewed forth are a perfect mix of unrelenting majestic chaos. I had a chance to interview Lord Serpent about the latest album, future releases and tour plans!
First, wanted to say thanks so much for doing the interview. How's everything going?
Lord Serpent: Things are going well, we're just getting ready for our 1st upcoming show in 7 months. A lot of new elements coming into play for this night as we're recording a live DVD/Album.
How did Ceremonial castings come together?
At the time I was participating in another band that was on it's demise. On the side of this band I was starting to write different material & music along side my brother, which came to be Ceremonial Castings.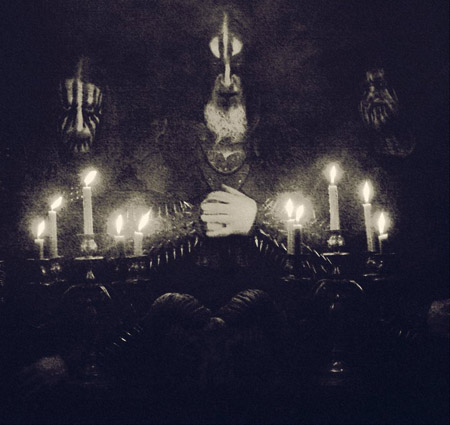 How would you describe your music?
I would describe my music as my life, heart, soul, purpose, visions, beliefs ect… everything I am made of goes into my music & every part of my music makes me who I am. It controls ever part of me. If you want me to label it with a genre then of course we describe it as "Deathphonic Black Metal" or "Bewitching Black Metal". Deathphonic is the creation of symphonic & death metal, it's apart of the elements we use. Bewitching is just something we do, if not to others….at least to ourselves. I as many am not really one for labels & genres, but it is what it is & I'm not sure else how or different people would label us.
Where do you get some of your inspirations from for your lyrics?
The lyrics are inspired by life experiences, dreams, visions, beliefs, human emotions. It really depends on what I am writing at the time. I find a lot of different inspirations for different songs or albums. Also the cycles of life often change the settings of inspiration. Honestly, most of it comes from within myself.
"Beast in Black" is kind of a collection of bootlegs and b-sides, what made you decide to do this?
We had some unfortunately downtime, that set us back a bit on our schedule of releases. While we were having to push back our next planned full length to what we thought would be a year at the time we thought it would be something we could do for our fans & the people waiting to hear from us. We had some unused material sitting around. Some bootlegs, unreleased demos and so forth. With the rumors of our demise, we thought this was a good way to let people know we were still here, alive & well.
How did you decide what was going to go on the album and what wasn't?
We didn't have a lot of material that wasn't already spoken for. So it was easy for us to decide. The material was all there, we just had to put it together.
How did you come to find out that you were related to the author Nathaniel Hawthorne?
We've always known. We grew up in Massachusetts & knew our family was tied to Judge John Hathorne, who's grandson Nathaniel Hawthorne later added in the w for his embarassment towards his actions. Our Grandmother's maiden name was Hawthorne as well as her past relatives leading back to Nathaniel. I guess that is where I get my writing itch from. Unfortunately I don't think I could ever be as gifted or even compared to someone of his talents.
Are you guys working on a new album right now?
We are currently recording a new album titled "March Of The Deathcult". This album will feature 7 selected tracks that are being re-recorded from our "Midnight Deathcult Phenomena" & "Universal Funeral March" demos. There will also be some re-mastered demos, covers & a new instrumental track as well. I believe it will be an orchestral version of Midnight Deathcul Phenomena.
After this album is released we'll get back to working on another full length & a split we've already started recording. We also have 2 more full lengths written & waiting to be recorded. We're playing catch up I guess you could say.
Are either of you working on side projects or are you focused on Ceremonial Castings right now?
We do have some side projects we all do on the side. Our drummer has some stuff under his name "Matthew Mattern" that he is always working on. Nick & myself have some other stuff going on, but right now most of the focus is on CC.
Do you have any shows coming up?
This month on the 21st of May we'll be co-headlining The annual "Northwestern Black Circle Festival" in Portland, Or. with Nunslaughter. We will be playing an hour set featuring most of what people would call "the classics" for a live DVD/Album that will hopefully be released later this year/early next year. After that we will be doing some local support shows opening for Exhumed/Macabre in August & Kampfar/Vried in September. After that we'll be doing a west coast mini tour in October/November.
What have been some favorite bands to play shows with?
I could namedrop a milewide list with how fortunate we've been over the years. The two shows that really stick out for me in the past have been with Mayhem & Watain. We did do a couple date run with Enthroned/Destroyer 666 that was a lot of fun. And we always have a blast playing with our friends Goatwhore. They are some of the nicest & coolest people we've met during our 15 year experience.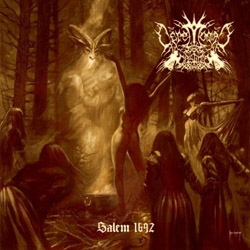 What have been some of your greatest moments as a band?
I'm not sure what I would call greatest moments. I guess the creation of "Salem 1692" for what it means to us was very special. I don't often look back too much on what we've done or accomplished if that word is even appropriate. I am constantly just looking forward & planning for our future.
What are some future plans for you guys?
We have a lot of things planned, as a few I mentioned earlier. There is one I am most excited about & that is another concept album. Similar to "Salem 1692" in structure. This album's concept will be all about the great Cthulhu. We've seen many artists/bands touch the surface with Cthulhu but I don't believe there is an actual concept following and digging deep into the mythos & abyss of the beast, but we will glady attempt it. The writting for the album musically has been completed. We do have a lot of material in front of us, so it unfortunately will have to wait. I do have a date in mind, but it's a year & a half away just to give you an idea.
Any words for your fans?
The words that always come to mind when I think of the fans out there that constantly support us is thank you! And a big thanks to you Kate, for taking the time to talk with us & deliver the updates to our fans. It is all so much appreciated!