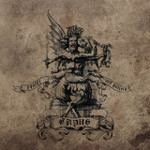 Listenable Records – 2010 – Finland
CAVUS hailing to us as a new band from Finland. As we know Finland bands, Azaghal, Satanic Warmaster, Calverium etc.. they release cold and depressive albums so long, but Cavus does not resemble to them, their genre is mostly French. They remind of Antaeus but surely, their music is not as aggressive and strong records as Antaeus. Drum recordings are full of trampets, crash and ride voices are heard sometimes. Vocal performance is pretty agressive but again it can not be felt in complex recording.
Considering the structural form of the band, guitar riffs are replaced with thrashy, chaotic and the other words "ORTODOX" black metal tones. Actually, they are not as closed as that genre, but riffs, vocals and recordings associate with that.
7/10