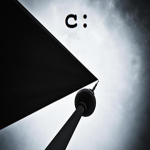 Catalyst has incorporated something completely new with their instruments, instead of just delivering straight brutality they've decided to give us something much more experimental and captivating. The members of the band aren't just musicians; they are artists and know how to take it to whole new level that has you feeling totally calm and unsettled at the same time.
Chris Nolan's vocals border on black metal shrieks that completely fit the vibe of the whole album, the music is heavy with samples from different movies that has you feeling like the end of the world is happening while you're listening to this. Rob brings in a headbanging rhythm on the third track "FS" while Chris brings up the intensity level with his savage vocals."Above the Flood" is melancholy with whispers in the background and a somber guitar lead and piano that makes the track even darker. "Protocol 1 &2" shows how they can go from one end of the spectrum to the other with brilliance and skilled musicianship.
This is an incredibly well done album that even at its calmest moments still is dark and will only get stronger every time you listen to it. What also impresses me is that this was all recorded and produced by the band themselves as well as they handle all the promotion. This shows a dedication to music and a passion that is well evident. I highly recommend you get a copy of this EP and give it a listen!
9/10