Interviews
Carach Angren Interview: "Franckensteina Strataemontanus Is Our Darkest State Of The Art"
Symphonic Black Metal band Carach Angren have released their sixth studio album "Franckensteina Stratamontanus" last summer. Dutch metal duo was already known by their unique interpretation of black metal combined with horror literature and horror movie influences in the background and they still go on this path without any break. We interviewed vocalist-guitarist Seregor about the production phase of the album, their new video, his personal life and other things.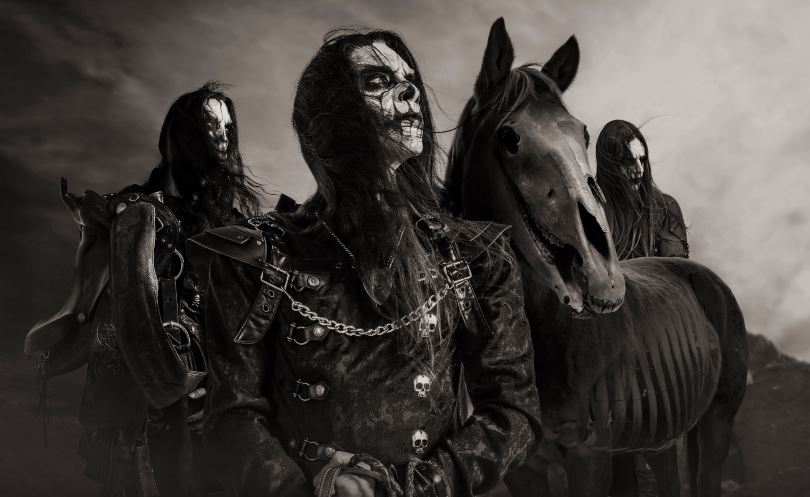 Many greetings from Extreminal Team! First of all, I would like to start with a question about the current situation. How do you guys get along with the COVID-19 pandemic in the Netherlands nowadays? How do you manage the promotion of the latest album " Franckensteina Strataemontanus" during the pandemic and all these restrictions?
Greetings! We manage and survive, help those we care for and keep our heads up. I guess all artists have their own way to get through this shit. In a way we're peaceful, it's not just Carach Angren who got affected, because now we can all burn together in this damn purgatory, without seeing other acts pass by. Not that I wish this tragedy to anyone out there, but I think every band must feel certain ease knowing that they're not the only ones with their hands tied to their backs. So, as for the release of Franckensteina Strataemontanus, I also simply see the positive side; in a way, we were lucky that our album was finished right before the outbreak. That way we had the quality to post on social media and we weren't forced to come up with ideas to keep our digital lives intact. But all in all, this shit is bad for every band who depends on the road.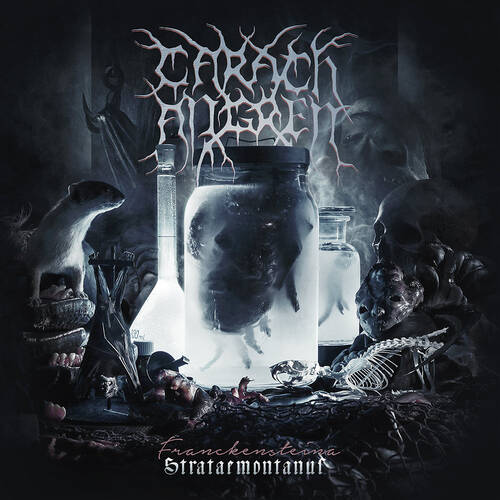 What do you think about the new regulations for public events? Would you enjoy playing at an event with a seating plan where people have less contact with one another, or do you think it's better to wait until everything is normal again?
Well, we do what we have to do. "Artists" is what we are, so if that would be the last option. So shall it be? But if you ask me? "What a shit-show!" I saw one show on social media without the audience and it gives me a studio feel. You can be bad all you want, but when it comes to live-shows, I consider you people just as important as the Carach generals who stand with me. That's where the magic happens. You need an audience to give them your energy and if that is 'real' they will automatically return that power. This makes a show worthwhile and you can only feel that if you are there and open to it. And IF we would go that way, it's not gonna be some live tv-show thing. Only if there visually would be a good alternative. But tell me…What better replacement is there for a real audience?
As far as I know, orchestrations are written by the keyboardist Ardek and it's a very essential part of your music as a symphonic metal band. What are your inspirations for the song-making process, are there any composers that have an influence on your orchestrations?
Yes, Ardek is the master of melodies and he never let me down as a friend nor as a musician. There's always a  new feel or story that comes with his music, so I could get old with his works hehe. I still write guitar-parts, especially when it comes to harmonies and double melodic lines but Ardek evolved harder than the digital tools around him, so he can imitate every guitar sound he wishes. Back in the day, he was depending on my actual guitar-work, so this way he can easily work out great ideas all by himself. I keep myself mainly busy with lyrics and visual art/stage performance, but we work together closely on every concept. Once a story becomes real, we tend to compose it like a movie, so for this album, the world of Frankenstein was the main influence. I know Ardek's taste is huge, but also his idols and inspirations come and go. We go to the movies now and then, so I know Christopher Nolan is one of his favourite directors lately. So Hans Zimmer is one of the composers I know he appreciates. But I can't really think of a name for this album other than "Johann Conrad Dippel". More into death instead of music. The 'real' doctor Frankenstein was the biggest influence.
The 6th album of Carach Angren has just been released last summer, when it comes to reactions from the fans and music-media, have your expectations been met?
Very good! You always lose a few but gain some more disciples, that's just the way it is. But personally, it felt like conquering a real milestone. Not only the production became better, but as a composer, the album gave me total satisfaction writing-wise. Of course, we are no Carach Angren without our previous works but there's an obvious part out there who agrees with me today "Franckensteina Strataemontanus" is our darkest state of the art.
Your music focused mainly on horror stories and legends as themes. What are the influences that led Carach Angren to this style? Would you like to mention your favourite horror movies and stories?
We have always been fascinated by the world of death. So horror was part of our lives since we were young. Frankenstein was actually one of the first horror movies I was allowed to see, because Boris Karloff didn't impress children as much as Pinhead from Hellraiser, so to say. In the beginning, we actually had style names like Haunting Black Theatric Metal, because we decided that ghosts and hauntings explicitly should become central for all our works to come. Still, after a few spectral concepts, we felt a challenge. Now we are not limited to the phantom anymore and that's why we have this monster album now. A few of my favourites; Halloween, Insidious, The Fly, The Conjuring, etc. etc.
"Franckensteina Strataemontanus" is out now, so the fans cannot wait for a new video clip. Are you planning to make a video for any of the songs from this album? If that's the case, which song seems to be the ideal candidate for the video?
We all know by now and you just said it hehe; "Franckensteina Strataemontanus" has just been released and we worked with an amazing team. Zoran Bihać is a very talented director (known from Rammstein / Lindemann), who's responsible for our latest video. It is visually inspired by Germany's first horror movie, "The Cabinet of Doctor Caligari". Borrowed from a museum, we used one of the official antique camera lenses used in the original shootings. This was combined with a digital cam behind it, creating this typical old black & white movie effect. We are very happy and proud of this unique result!
You have worked with Erik Wijnands on your previous albums for the album cover art. But on your latest album, we notice different artists such as Stefan Heilemann and Costin Chioreanu. Do you have a favourite with regard to artwork/photography from any of the albums so far?
It began with Erik as a friendship for we served together in our first nineties metal act "IngerIndolia." Erik always did amazing work on our first three albums, but as we grew our visuals changed just like our concepts. Costin is a hell of an artist too! Goddamn prodigy! And his drawn-style was refreshing for Carach Angren at the time, but after "Dance and Laugh Amongst the Rotten" it felt logical again to go for the realistic photography we used before. Erik became a father and considered his darker arts as pleasure, not business. He works his way, his tempo, so he never felt like going professional all the way. Sometimes that passion is only strong when it remains what it is. Meanwhile, we met Stefan Heilemann. And he has that crazy thing for the photo like Zoran has that for video. So I call Stefan top-shelf quality at this moment because we are really satisfied with his ideas. Costin, I meet now and then at shows but in short: Really nice guy and amazing works! Erik is more family than a colleague because we go back many years from now.
Some of your lyrics were written in German language (Der Vampir von Nürnberg) and Seregor speaks very well German without an accent. How does it feel to sing in another language and would you consider to use other foreign languages in your lyrics as well?
Danke schön, ja die Deutsche "language" ist definitive part of my Dutch home. Raised by grandparents who grew up with the accordion instead of the guitar. These are people who remember the world-war and they never knew the free world of rock. Instead, they always marched straight into the German Bier gardens. Schlager und Deutsche Volksmusik! You know, where they all clap their hands, getting shitfaced, while big-tit Berta serves them even bigger brews. I have good memories coming home from Taekwondo on Sundays, while granny is cranking out German hit- songs, pissing off the neighbours, and dragging everyone who comes near into her über-cheerful dance hehe. Aside from living a few miles from the German border, I had plenty of sources of influence. With a hatred for math and a thing for languages, movies, horror, etc., I found my place many years later as Seregor in Carach Angren. Our first album "Lammendam" tells of a local and personal Dutch saga about a young mistress in love with a German son and a Dutch one at the same time. No one knows how, but one probably found out about the other. Set her castle on fire and burned the bitch alive. This is how she became the wrathful ghost of Lammendam. Her white dress was seen by French farmers who fled here because of the revolution. "La Madame Blanche" was a name of fear in that time. And time ticked away when the French La Madame Blanche changed into the Dutch "Lammendam" over the years. So this album had four languages to play with from the get-go. French is the only language I cannot speak as fluently as the others. Still… If there's an opportunity I think French is unique and beautiful. We will find a way if needed. I'm very satisfied with my German parts on the new album and fuck yeah! If our next works would have Chinese influences, I'd feel definitely challenged to see how close I could get.
The latest album has a very strong bass sound, which I personally find really cool. On the other hand, Carach Angren doesn't have an official bass player. Does it cause any problems when creating a sound or performing live shows? Or do you rather see it as an advantage?
Neh…I got so used to our diversity it doesn't matter to me. If we were a band with a specific instrument setup, it could be too obvious, but for most people, this is a visual stereotype thought. Of course! 99% of all other metal bands stick to the base, so I get that it's weird at first. We just didn't have one and got used to it. Ardek and I stomp on stage like we're raging crackheads, so we really need to get old and slow in order to accept the visual services of a bass player. And if so, personally I'd like to see someone hacking on a big-ass contrabass… dragging that thing like a fuckin' coffin over the stage haha.
" Franckensteina Strataemontanus" includes more industrial elements than the previous albums. What are the reasons for this change in the sound?
Not long before writing this album, Ardek wrapped up and released his solo album "Parasite Twin". This work is clearly industrial, so Ardek came with a few leftovers that didn't fit his project. I was clearly against industrial. I liked it, but couldn't accept it right away and before we knew it, that familiar album title and music video became one of our best tracks on the album. We overlooked that Frankenstein was perfect when it comes to 'Industrial'. For the industrial revolution was exploding at the same time when Mary Shelley's novel came to light.
Vocalist Seregor's stage shows are quite fantastic and theatrical. Does he have any educational background in theatre or drama acting?
Thank you! I'd like to give you some fancy titles, but there are none. Yeah, Taekwondo on a professional level (14 years) is where the movements come from. I'm a restless fuck anyway, so standing still is not one of my virtues. Like riding a bike, you don't easily forget. In order to win titles, testing your body over a greater period of your life becomes an automatic thing. I have no second thoughts about physical abilities and I guess that shows a sense of control during a performance.
What are Jack Owen's contributions to the band? Did he write guitar parts of any of your songs? Are you still in cooperation with him?
Jack participated in a US tour a few years back. We toured with Deicide before, so that's how we hooked up. He did one tour with us as live-guitarist in the States, because that was the most efficient choice at the moment. Also, it was great to have a legend like Jack Owen helping us out on guitars. We all grew up with Cannibal Corpse and Deicide, so it was an honour to us. But he never actually wrote parts for Carach. That's for Ardek and I.
Have you ever heard of a metal band from Turkey? If yes, which one?
Maybe like 10 years ago, we performed with a Turkish band in Germany. I believe that band was called Moribund Oblivion. Other than that, I wouldn't know unless I'll google it, but I'm sure there's talent in Turkey, too.
Thank you very much for answering our questions. Is there anything you would like to add or say to the viewers of Extreminal?
Hails from Ardek and Seregor. Thanks for your support and we hope to see you soon!