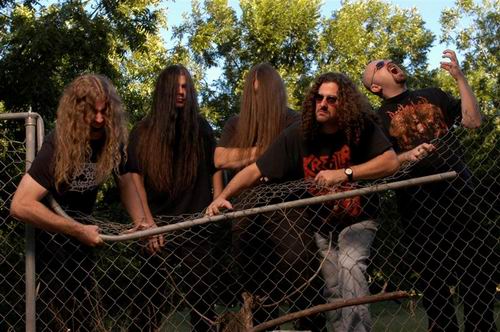 First of all please give some information for "Wretched Spawn" album.
It was recorded in Sept. And Oct. 2003 at Sonic Ranch in Tornillo, Texas. Neil Kernon produced it.
Where do you think Death Metal is going? I mean when you look at past, what have changed in Death Metal? Is it still brutal to kick asses? And why some Death metal bands care/cared trends?
I think that the newer bands, like Decapitated and Spawn of Possession, for example, are helping to take the Death Metal scene farther down the road of technicality and brutality. This, of course is a positive thing. In the future, Death Metal will only get better and better. Fuck the trendy sell out fuckers who changed their style, Death Metal doesn't need those weaklings anyway.
Some think D.M. band members are really like on the album booklets. But they're (generally) normal people. Which do you think important appearance or music? Please explain to us…
Music is the most important thing by far. Appearance is not really important, although I think that death metal bands should try to have some sort of darkness in their image. We are all normal guys, but we love dark, brutal music, and we want to present ourselves this way.
What do you advice new bands? I know too much men who decided to make Death Metal after listening Cannibal Corpse in here.
Pratice, a lot! And have fun, because getting paid to play death metal is nothing short of a miracle. If you want to make money, death metal is a bad choice!
I think there is a transformation after the year 1999. I mean in Seattle and Washington people gave important messages to nations. Are you neutral or take sides? What do you think of protests against WTO?
Fuck politics!
I heard that, an American woman defendant you for your music, is this real ? If it is real please talk about it.
I don't know anything about this, sorry.
Will you be at a film again with Jim Carrey again? As I heard he's a death metal fan. Is it true? And what are your fav. films?
Probably not, since there is really no place for us in most movies. Ace Ventura was a fluke. Yes, Jim Carrey likes death metal. He's a really cool guy! My favorite films are: The Shining, Braveheart, all three Lord of the Rings movies, The Exorcist, Goodfellas, and many more!
In the album Gore Obsessed you covered the song No Remorse. Be sure too many thrash fans liked it in here and they bought your album. Do you miss 80's? Why?
We liked some of the music from the 80's, like Metallica, but we don't miss the 80's. We would rather look to the future most of the time. We just did "No Remorse" because it's a really easy song to play, and of course it's also really heavy.
When will we be able to watch you in here? As I heard before your promoter was the same with the band 'Destruction' and he didn't want you to make show in Turkey because of some problems… Can you explain what the real story is?
I think some of the guys might be worried about security problems in Turkey. I hope we are able to play there soon, but I must convince the other guys in the band that it is a good idea. Hopefully we can play there later this year. I don't know anything about Destruction's business, so I don't know what that is all about.
Have you ever heard any information about Turkey?
Only from the news, really. I have also heard that there is a great death metal scene, with bands like Cenotaph. And I have heard there are many beautiful places to go hiking and camping there. I hope we are able to come this year, maybe in October on our 2nd European tour.
After "Wretched Spawn" naturally you are going to have many tours. Do you like to come Turkey? We'll be happy to see you here.
Yes, but as I said before, I must talk with the other guys first! I personally want to come to Turkey very soon, I hear we have many fans there!
(This is my friend Volkan's question) When I was in high school, I failed English lesson because of your cool lyrics. I wanted to translate to your lyrics my english teacher. He said me "you are psychopath"  You have a lot of albums and still writing 'gore' lyrics. How do you write them? Have you ever thought about writing political lyrics like Napalm Death?
The gore lyrics are inspired by books, movies, violence on the news, and our own personal feelings of rage. Death Metal is a great positive way to use negative energy, in my opinion. We don't want to write political lyrics, because we don't want people to be thinking about the news when they listen to our band. Our band is an escape from reality.
I feal admiration your album covers. "Bloodthirst" ' s cover is the best for me. A human who don't knows any information about you can understand your music. Is this your creativity ?
Vincent Locke, our artist, deserves all of the praise for the cover art. As for our music, we try to make technical music that is also easy to remember and listen to, even for a non-musician.
Now the unnecessary questions time ! 🙂 Cartoons have many strange creatures, do you like any cartoon hero ? Please write your top 5 creatures …
I don't watch cartoons, even the really cool ones like Manga, but I'll tell you, I think "Brak" is pretty cool. Do a Google search for him singing our song "Fucked with a Knife", and be ready to laugh!
If you have to kill someone, how do you do this ?
Answer: Any way I have to to survive, I guess!
My questions are over, do you want to say something more?
Thanks to all of our fans in Turkey! We want to come see you this year!
Thanks for interview, we are waiting you Turkey….
Thank you for the interview! I hope to see you in Turkey!
Alex Webster