CALM HATCHERY, death metal quintet from northern Poland, featuring past and present members of Dead Infection or Tehace has finished putting final touches on their new, second album, entitled "Sacrilege Of Humanity". The band signed worldwide deal with Selfmadegod, and the album shall hit the stores on 15th November 2010. ). Cover artwork was designed by Mentalporn (Deathstars, Behemoth). On band's Myspace page (www.myspace.com/calmhatchery) third song – "We Are The Universe" – from new album was made available for streaming.
Band's guitar player, Huzar, comments on the content of new release: "Our new album is quite diverse. We tried to combine technically advanced parts with some kind of simplicity and directness to get better contrast and avoid being monotonous. There are also some solutions that put more space into music – just to step aside for a moment from death metal standards. There is also lots of melodies , but the album is still uncompromising. "Sacrilege Of Humanity" doesn't promote hate, but is rather cumulating some form of cosmic energy flowing from minds of five people. We are aware that everything surrounding us is cosmic, and we're just a small part of it…"
"Sacrilege Of Humanity" is technical, brutal death metal inspired by such genre leaders as Nile, Morbid Angel, Decapitated or Immolation. Flawless sound of second Calm Hatchery is guaranteed by Hertz Studio, Bialystok where the album was recorded and supervised by Wiesławscy Bros (Behemoth, Vader, Hate).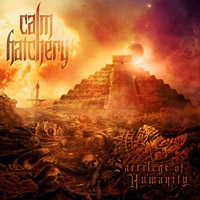 Tracklist:
01.Rattlesnake's Dream
02.Sea Of Truth
03.Messerschmitt
04.We Are The Universe
05.Mirror Giants
06.Hymn Of The Forgotten
07.Them
08.Lost In The Sands
09.Those Who Were
10.Shine For The Chosen One
11.The Blood Of Stalingrad
Calm Hatchery debuted 4 years ago with "El Alamein" album. Recently the band achieved quite big success wining on 20th August Rock Generacja festival and having the opportunity to present itself next day in Koszalin Amphitheatre together with Vader and Napalm Death.