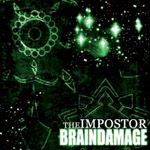 Dracma Records – 2010 – Italy
Italian scene is on attack once again… Braindamage, who started their career in 1988, released "The Impostor", this looks like a continuum of War Against The AlMighty.
Aggressive, extreme thrash metallers Braindamage is an old band but, they created a modern work with proggressive touches, aggressive thrash metal and clean vocals. Generally, I don't like thrash metal vocals, but Braindamage's vocal is fitting and good.
They used fancy and extreme drums instead of plain thrash metal drums. They have modern solos too. Bass guitar tone and partitions are something to discuss. Actually, this is the thing I am attracted most.
I suggest to the ones who wants to listen modern toned guitars and more modern and extreme thrash metal.
8/10