Reviews
BONE FRAGMENTS "Dark Amusement"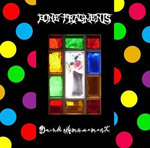 2010 – U.S.A.
When you see clowns on the album cover, you can think this is a funny band or you can expect old style clowny horror films. Of course, they are the second choice. Virginian band's first album after a demo:Dark Amusement…
Album reminded me the days of my childhood that I tried to scare people on the phone with my laughing clown 🙂
I never listened to something like that before, I could name them dark metal but they have a unique style, so creative… Songs with strange circus song like intros and sometimes same kind of riffs are full of black metal scream vocal and hatching riffs. And this makes them closer to black metal.
Production of the first album of the band, which is producted by themselves isn't very good, but it's not bad for dark metal though…
Album, full of odd, dark and shuddering athmosphere could be better with a better production and record. I can advise to the ones who want to listen something different and odd.
7/10