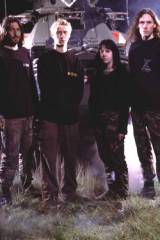 British extreme metal pioneers BOLT THROWER have posted the following message on their official web site:
"We would like to make it known that this re-release of 'Realm of Chaos' is by Arseache Records and done without our consent and against our permission. They are making money off the back of the new album, 'Those Once Loyal', as they have done previously with the release of 'Who Dares Wins', again released without our consent or permission."
"BOLT THROWER will see no royalties and the money will line the pockets of that lip-licker Digby Pearson [Earache head honcho]. It's a cheap shot, and quite sad to see how low a record company can stoop. Once they were good, now they are nothing. The new cover is not a patch on the original.
"We urge all loyal BOLT THROWER supporters to boycott this product…spread the word!!!!"
The remastered "Realm of Chaos" reissue is due out in the U.K. on November 21. The new version features new artwork commissioned from John Sibbick, who was responsible for the original cover. BOLT THROWER's new CD, "Those Once Loyal", iwas released in Europe this past week via Metal Blade Records. The CD was recorded at Andy Faulkner's Sable Rose studios.
Earlier this year, BOLT THROWER announced the return of original vocalist Karl Willetts as a full-time member. Willetts rejoined the group as the replacement for Dave Ingram, who left the band in August 2004 due to long-standing "health and personal problems."
"Those Once Loyal" is the follow-up to 2001's "Honour, Valour, Pride", which was the only BOLT THROWER release to feature Ingram on vocals.