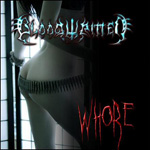 Self-Released – 2010 – Poland
Polish band Bloodwritten is with us with their new ep 'Whore'. Combining black and thrash metal, the band is on stage since 1997 with 2 demos and 2 full albums. Influenced by 80's thrash and using black vocals, the band is trying to improve their music. They have 2 new studio work on teh ep.
'Whore' starts with a bullet voice and wraps you around with high speed. You do really feel the bullet coming out from the gun. With the ascending melodic voice, again without slowing down 'Bullet Overdose' begins. As those 2 tracks that running at high speed, heals you within, when coming to the third track the live performance 'Taste Insanity' you feel disappointed.
Iniquity Intensity Insanity album in 2008 was recorded in Hertz Studio that which bands have also worked like Vader and Trauma. Such a beautiful studio to record an album but suprised to hear such a concert performance coming from this album. While listening it you can not distinguished any instrument as you feel difficulty even to understandthe lyrics. It's a poor work of live performance to be put into an album. It's hard to understand why they put such a live track that coming so hoarse to ear; it has been extremely sloppy. Instrumental demo that came after, 'Return To Tortuga Bay' is poorly recorded. I mean there would be no problem if this track been in the album or not because in general same riffs are spinning.
Even though it's the band's first ep, for me 13 years is a long time to progress and develop ownself. Track could have done more carefully. Or rather than making it an instrumental track, with lyrics it could have been a classic work and bring so much noise like 'Whore' and' Bullet Overdose'. About the cover, it's model Hilary Keller's work; so sexy and reflects the violent riffs. But when we look through the album, Whore has a good start with a bad ending. So after listening the album the expression on your face will not be very strong. I hope the upcoming album 'Thrashin Fury' will make us smile.
5/10