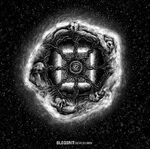 Unexploded Records – 2012 – Sweden
The Swedes BLODSRIT are already since 1998 on the way on the dark path. Already long-known in the underground they released at the end of 2012 their latest opus "Diktat Deliberi" via Unexplored Records.
You can hear here geniune Black Metal. Pitch-black and evil sound frameworks which generate with melodic, very variable riffs an unholy alliance. Powerful bass lines and emphatic doubleblast drumming reinforce the dark, icy character of "Out Of Anger". The listener is abducted in dark, cold worlds of hate, rage and hopelessness. The distinctive growls emphasise and reinforce the hard, dark side of "Diktat Deliberi". The melodies and melodic choirs inserted now and then reflect the other side of the production. This symbiosis between hardness and beauty constitute the typical sound of BLOODSRIT. Thereby the all in all eight songs all move in the mid tempo area. The trio knows what they want melodically and implement it very successful. Who is into Melodic Black Metal can grab here unhesitatingly!!!