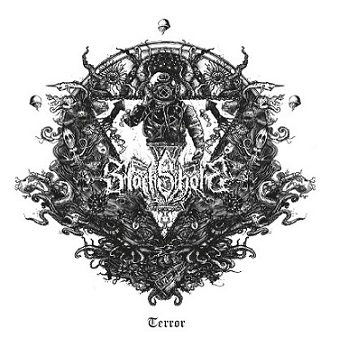 Black Skull Records – 2013- Germany
The German band BLACKSHORE are no newcomer anymore. Increased to a trio the gents poach already since 2007 under this name in gloomy realms. Their latest opus is called "Terror".
After a short intro it gets straight and without any experiments going! Pure Black Metal with some Thrash Metal elements is now the order of the day! Like a punch into the listeners' face. Thereby the gents leave at no time their highspeed. Dark and characterized by unending hate songs which are kept primordial, dirty and pitch-black. The little short of inhuman drumming gives "Terror"ravenous energy. Powerful riffs and forceful bass-lines do one last thing to lend weight to the cd. The snotty, nagging vocals are yet the icing on the cake. The lyrics are quite direct and border on irony and provocation. They are kept in German and English language and give an insight into the bands' self-conception. Apocalyptic mood made in Germany. Ambitious recorded show BLACKSHORE that Black Metal is also anno 2013 not dead. Fast, loud and emphatic recorded each Black Metal fan should listen to "Terror" by all means!!!!
8,4/10