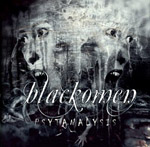 Self-released – 2012 – Turkey
Recently I received knowledge of a Turkish band who is already since 2002 up to dark musical mischief. There is talk of BLACK OMEN who released late last year their cd "Psytanalysis" in in-house production.
The gents celebrate Melodic Black Metal in all its facets. Dark, icy sound frameworks mix up with a lot of melodies to a black, independen musical mass. Thereof originates the typical sound of BLACK OMEN. Fast, modern riffs go into a bizarre symbiosis with traditional Black Metal. Partially come within a whisker of Bombast orchestral parts give "Psytanalysis" profoundness and matter. Very technically played the synthesizer sounds additionally relax the single songs without thereby loosing darkness. The use of female vocals ("Spring Rains") shows the bands' versatility. "Psytanalysis" receives additional dynamics by the changing tempi. Rounded off by nagging, distinctive growls BLACK OMEN offer the perfext soundtrack for a horror movie.Technical impeccable recorded you hear here that there were no beginners at work! Rather grown musicians who know what they want! Who is into modern, Melodic Black Metal can unhesitating grab here and complete his Metal collection!!!