Hello, your new album "Extreme Graveyard Tornado" is being relesead with Everlasting Spew Records label in 28th of June 2019. What would you like to tell us about the album's writing and recording process? Are you satisfied with the product?
Yes, we are all happy with this album. It was actually recorded twice, due to a minor computer mistake, it bummed us out, but in hindsight it's pretty funny.
Why it's been a very long time after "Farmer's Wrath"? OK, you had released rearrengments, splits but 11 years, a very long time. Is it a problem concerning with your former guitarist Achmed Abdulex's split?
Sure, eleven years is a long time, but doing albums is a time consuming work, and splits is a great way of keeping people interested in the band. It has nothing to do with Achmed, but he is here in spirit, he is always with us.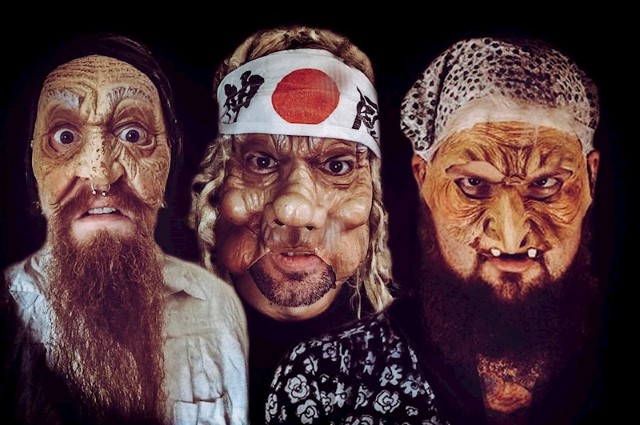 In the album the songs, TowardsInsanity, Train Decaptitation, House Guest, Accused of Suicide, Back Hole Jaw, The Rise of Stupidity, Pyromaniacs are very impressive but most of are not typical grindcore. -Percussion, flute, accordion and saxophone- There are lots of interactions. Am I right?
We are not a typical grindcore band, we do what ever we want, no limits, no frames, only fun and speed, and saxophone.
In a general view the album is just like a soul asylum diary. Lyrics are uncomfortable and funny…And this is Birdflesh! Smattro Ansjovis has not a normal way of life huh?:))
No, many years in metal hospital, living life in the edge of sanity. But now he is almost free from medical care and can focus on birsflesh full time.
Of course it cannot be expected that your concerts will be in a normal way. Obscene or an other fest/concert? Which of your stage experience was the most funniest one that you remember?
Russia last year was amazing, crazy people over there. Obscene Extreme can't be explained, you had to be there. We did a gig on a roof in Mexico, that was insane. Australian shows was memorable, we had great barbecue parties, saw kangaroos and had a car crash.
Playind drum and making vox is not easy, are there any funny story about that?
No funny stories. Since no one else could sing and play their instrument at the same time, Smattro had to be one.
Some jazz and ather kind of stuff influences on your music, do you want to tell something about that?
No limits, no rules, in Birdflesh there is no law. Why limit your creative side because of peoples judgement, do what you want, what you feel like and think is cool and fun.
Are you still playing in any side project or band as regular member?
Smattro plays in General Surgery. Willy Whiplash and Count Crocodelis has some side projects about woods and vomit, long story.
Are you working in your normal job? or just getting money from the music?
We just quit our day jobs because we put so much trust in our new album, it's now or always. One of our friends said that the new album was so great, and we trust him.
Which bands & albums is on your player nowadays?
Firefall, Queensryche, Don Henley, Dio, Ozzy, Manowar, Sonata Attica, Cannibal corpse, Napalm Death, The Beach Boys just to mention a few.
After the release of " Extreme Graveyard Tornado" you have your place in the concerts and festivals. What is your opinion about the countries that you've not been before? Would you like to have a "Grind Party" (concert) in Turkiye?
We would love to see a grind party in Turkey. Gabble gabble. We would like to grind a turkey, happy thanks giving. No for real, you have had awesome bands, Sakatat for mentioning one. We would love to come.
Thanx for the interview! What would you want to say to Turkish grindcore freaks & readers?
Thanks for your support! Make sure to listen to the new album, be free and safe, and stay brutal, fun and kind to each other.