News
Beyond Mortal Dreams
Aussie death metallers BEYOND MORTAL DREAMS have just released its new CD-EP entitled "Dreaming Death". The new material is a successor to 2008 debut album "From Hell" and consists of 4 tracks –including cover of Beherit's 'Beast of Damnation'– which continue to intensify and further pursue band's vision of dark, brutal death metal sonority.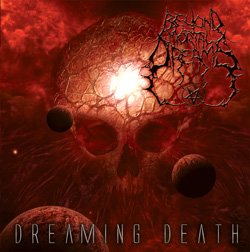 The main driving force behind BEYOND MORTAL DREAMS, Doomsayer, comments:
"Dreaming Death is a result of our continuing desire to create solid, powerful, dark, and atmospheric style of death metal music. Like a beast manifested through sonic destruction!
We felt we had achieved this on a certain level with 'From Hell' but of course, one can always look for ways to expand on previous efforts. With Dreaming Death, we incorporated lower tunings to help provide a much more guttural and crushing feel to the material, as well as a slightly more melodic touch without detracting from the overall brutality of the music. The material currently underway for the next album will also expand on this idea, creating a blend of savage, dark, and atmospheric moods. At this stage, BMD will continue to function as a studio band, but will never rule out the possibility of securing a live lineup in the future."
New tracks 'Feast Of Carrion' and 'The Filth Of Their God' as well as the complete "From Hell" album are now streaming at this location:
beyondmortaldreams.bandcamp.com
"Dreaming Death" EP was originally released in Spring/Summer 2012 in a limited print run of 100 CD-R copies. The new press is completely pro-done and can be obtained through the band at following addresses:
Track list:
Feast of Carrion 6:15
The Filth of Their God 2:50
Dreaming Death 5:42
Beast of Damnation 3:17
Current line-up:
Doomsayer – vocals/lead and rhythm guitar/bass guitar/synth
Bloodspawn – lead and rhythm guitar
Maleficus – drums