Greetings and welcome to Extreminal webzine. On the second of July BELPHEGOR played in Istanbul as a part of the Unirock Fest. What do you think about the whole festival and how do you find the Turkish fans?
Yeah first time in Turkey, and i was, and i am still impressed, it was an intense – aggressive Death show, also the crowd was amazing. I didnt expect that, cause it was daylight and hot as fukk. Respect, alot good memories stuck in my head, hope we can return to Turkey with the new album.
In İstanbul, was your performance effected by giving the concert during the day time? Don't you think that it was too hot ,what is your opinion about it?(have you ever performed before under that hot weather)
Daylight wasnt helpful, but as i mentioned above, it was worth it, we shredded a brutal set, and got alot energy back, the crowd was extreme and fantastic.
On your MySpace profile, there are many shows throughout Europe planned for 2011. Is this a European tour and if yes – which bands are you going to tour with ?
We start in February and tour with DEICIDE North America, than a smal break, followed by the second Usa raid w/ SEPULTURA, than some European festivals and in June/ July we cover Europe with DEICIDE again, will be an intense year for the band. Can t wait to celebrate the new songs in a live situation. Nowadays when it comes to extreme musick and metal attitude you have to mention BELPHEGOR. In a live situation, you can really feel the crowd, the Demons passion.
Your last album 'Walpurgis Rites – Hexenwahn' was released in 2009. How was this album accepted by fans and reviews?
The feedback etc. was amazing, it was a solid BELPHEGOR album and we toured our asses off. And now we have BLOOD MAGICK NECROMANCE!!! A hugh challenge to create this eight sound collages. There are a lot of new elements and structures added, to explore our chaos sound and take it to the next level. Also changed the studio and the producer, it was time for a new chapter, experience ….we entered the known Abyss studios in Sweden with Peter Tägtgren as producer. The soundwall is massive, im blown away, and it was important to see our musick from another perspective though.
BELPHEGOR have 9 studio albums in their discography. Which one is the most important and successful record in your career ?
Each album we always try to give our best – soundwise, musickwise. I mean i dont wanna talk about the best BELPHEGOR album, but the new monster is a very special album to me. Magnificent and our utmost dangerous offering yet.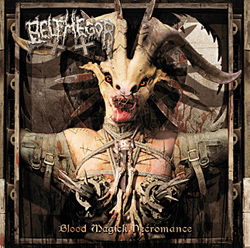 Are you satisfied by your work with Nuclear Blast? What are the advantages/disadvantages of being part of such a big label?
Yeah we just signed a deal for three more albums. Nuke Blast is doing a good job, with proper distribution, worldwide. They have alot great bands on the roster, such as DANZIG, NILE, fukking UNLEASHED, MOTÖRHEAD, IMMOLATION, BEHEMOTH, VADER etc
Everyone should know, we are one of the hardest touring bands, and strong albums brought us on top of this genre, not a label or anything else.
Anyways, lets talk about the new monolith, entitled BLOOD MAGICK NECROMANCE will be released in USA, Canada, and Brazil on February 8th. In Europe, was just released a few days ago. If you lust for supreme death/ black metal art, you need to check it out!
BELPHEGOR have more than 15 years in the scene. Is there a moment in your career that you will never forget ?
Sure i could fill books man. We went through a lot of heights and amazing times with the band. We traveled the planet so often, I have so many great memories stuck in my head, and I am thankful for almost all of them.
U know, we all have exercised a lot on our instruments the last decade, to get tighter as live band, to improve our playing and compositorical abilities, and explore our sound, this is always the masterplan. Musick dominates everything and comes first. Its like a pact with hell. You know, we are totally into the process.The band, the musick, the attitude. This force is our life. Our passion and blood.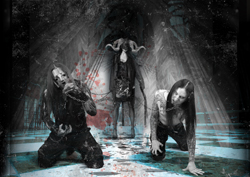 Where do you gain inspiration from to write such extreme music and lyrics?
The hellfire is burning, we are motivate as fukk and ready to take the world by storm. Of course there is always the elements of the devil, and the occult, also a strong Anti-Christian sentiment, with tendencies to Nihilismus. We have always been against the Church. Crush them.
Freedom of speech must be guaranteed, especially in the arts. Our ninth album, BLOOD MAGICK NECROMANCE reveals a world of unsightly romance, necro… sadistic… insane devotion to the other dimensions of chaos and flesh. One important sentence: "I´LL EAT YOUR HEART TO TASTE U AGAIN…." BELPHEGOR sounds exactly as we wanted to in 2011, more shredding, more magick, more of everything.
What's the difference between the underground metal scene when you started the band and now?
Back in the days all was more extreme, raw and destructive, the way it meant to be. Not so many trendies and sell out whore marketing bands around. But hey, its still cool to shred intense Metal, and travel the world, to bring the devil, the flesh the chaos to your town, worldwide.
For so many years in the music business which one is the most important lesson that you have learned and what is your advise to all young bands that are starting to play?
Yeah 17 years of musick and excess and BELPHEGOR is still here to celebrate supreme death/ black metal art. Well, believe in yourself, take ya own decision, decide for yourself and follow your own path…do not let them break your will.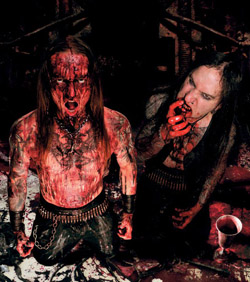 Have you ever thought of stopping to play music and starting something completely different? What would you be doing if not playing music?
I m born to make Musick haharrrrr. At the moment all is focused now on the new album, BLOOD MAGICK NECROMANCE.
Which was the last albums that you listened to from start to finish?
DANZIG – HOW THE GODS KILL and SEPULTURA – ARISE.
Since you are from Austria – do you have a favourite beer and which one is it?
We have a hugh beer culture in Austria, i prefer Murauer, also dig Kaiser or Stiegel beer, to mention a few.
Your bassist Serpenth was pretty close with fans in the Unirock Festival in Istanbul, but we couldnt see the other members. Is he always that close with fans?"
Always great to hang up with the demons. I mean, it always depends, ppl there was amazing and friendly, to be honest – it was to hot for me harrr, so i left the areal after ENTOMBED, i thought i die after our show.
Your final words to the readers of Extreminal webzine ?
Thanks for the space in the magazine. Hails to all Turkish Metal Demons, and all who stuck with us, who just got into the band, or who came to the shows. I wish we can return to Turkey in 2011. An honour this horror!