BEHEADED needs no introduction if you follow the Brutal Death Metal scene. They are definitely one of the most exciting and heaviest band around. We caught up with these Maltese Death Metallers, Frank Calleja to be precise to talk about the band, the new sound and much more.
Greetings . How you all doing?
Hey I'm doing very well thanks for having Beheaded for this interview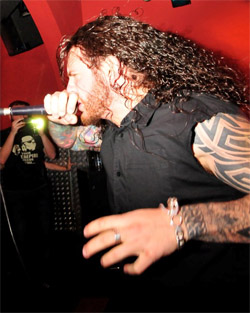 Frank, you joined the band in 2009. When was the first time that you'd heard of Beheaded?
I've been friends with the guys from Beheaded for many years and even played with some old and current members in other bands. I heard of Beheaded sometime around 1993-1994 I was 13 back than and just started getting into metal, I've always followed the band and have been a fan.
What were your expectation as per joining the band? Do you think that you've filled the void and have done justice to the vocal demand, you were of course involved in your other band but how different is it?
Yes I have been involved in my other band SLIT (which also includes Omar on guitar) steadily since 1999 and even some other bands before that which however never made it to record or even perform live. Despite Slit's music being a mixture of extreme genres mainly thrash, sludge and hardcore the vocal demands in comparison to Beheaded are totally different.
Having to step in a band such as Beheaded which had 3 different vocalists is not an easy task but I was confident in my abilities. My aim was not to not deviate from what Beheaded's music needs in terms of vocals and at the same time leave my imprint.
So, now with you in can we expect the change in sound of the band, musically or lyrically?
Musically the band is and will always be a death metal band and my style of vocals I believe fits more the direction the band is taking, that is more in the lines of classic death metal., obviously the music evolves to accommodate the vocals a bit more and vice versa and I believe that has also helped the band roam more into areas of death metal which maybe it hasn't before, revisit old influences and so on.
Lyrically I am now handling all lyrics. I'm capable of writing lyrics and prefer it that way.
And yeah, how the touring and playing live going for you with rest of the band?
The live shows are fucking great it's a pleasure sharing the stage with these guys and performing such intense jaw breaking music.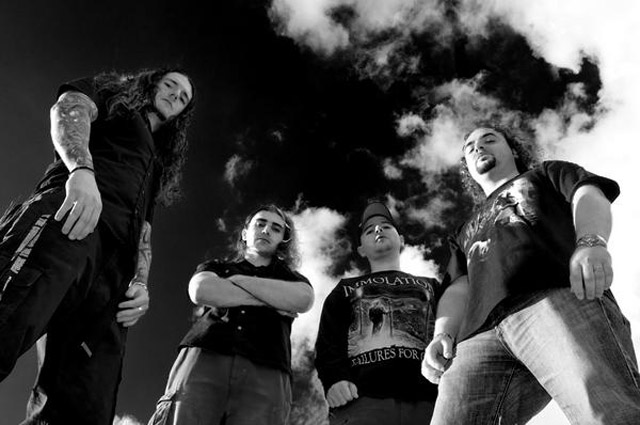 Beheaded is one of those extreme band that started the whole Death Metal scene in Malta. How is the scene now and how different is it from the days when the band first started?
Back in the 90's the scene was different both on a local and international level even if you take a minute to think about how the music scene was without internet…no Youtube, downloads, myspace, facebook, mp3's, itunes, ipods. Internet changed everything and brought about a new reality in music with it's positive and negative aspects which I'm not going to stay pointing out now, everyone knows more or less what they are and has his opinion about that.
I'm not a nostalgic type of person as I let the past be the past but I do remember people in the scene being more genuinely passionate about their music back in the day or at least that's my impression.
Alright, when the band first started or should I say on the Souldead demo we can hear the keyboard passages which of course now is no more, how do the band think the music has evolved from those era to now ?
I'll answer as a partly outside to this question since I wasn't in the band at that time.
Beheaded's music has evolved, matured, as have the band members both individually as persons and as musicians but it somehow feels like now the band is coming full circle with it's music and is revisiting a lot of older influences but at the same time being better musicians too.
What about doing experiments with the sound? Is the band open to this or you follow some strict rules regarding your sound?
The only rule we follow for Beheaded is to play death metal and there is no aim at being overly experimental with our music. There are other bands that do that, each to his own but Beheaded is a death metal band and that will not change at any length.
How important do you think the release of 'Recounts of Disembodiment' was? It was after this release that the band got to tour US. How was the experience?
Again I can answer this as an outsider and a fan back than as I do remember Beheaded releasing 'Recounts' and it was massive release ! The band was touring all over the US which especially for a band from Malta it was something unreal and in a way still is for most bands.
It brings us to our next question, how important is it for bands to invade US market and get signed to a US label because everyone wants to be there?
To be honest I do not like thinking too much about the business side in the sense of targeting US or EU markets or whatever. Obviously and unfortunately if you're in a band for a long time you have to look at the business aspect to avoid getting ripped off by and keeping the financial situation in check but we're not business men, we're musicians and business in music, especially extreme music is a necessary evil but that doesn't take away anything from my hatred toward the music business. There's way too much scumbag businessmen involved nowadays in what we call the underground ! Extreme music is about passion, aggression, anger and not about how a band should invade the US market.
What will be the follow up to Ominous Bloodline like? There's a huge expectation 'cause that was a killer album.
The new album is entitled NEVER TO DAWN, unfortunately there have been a number of setbacks which delayed the release of the album and as much as we are anxious to release it we still do not have a set date.
Personally I think the songs on this new album bring out the best facets of Beheaded through the years…it has the raw anger of Perpetual Mockery, the intensity of Resurgence of Oblivion, the attitude of Recounts and the complexity of Ominous Bloodline. We're all very confident that Beheaded fans will enjoy this one.
When can we get to listen to the next FL?
Hopefully this year !
Well, we can see the band also organizes Malta Death Fest, how come the band got involved in it?
David Cejca and I had been discussing this and since we both have been involved in the scene for years on both ends of the rope being in a band and also putting on shows we decided to give the idea of having an entirely death metal festival in Malta.
The response we had in the first year was very positive and this year the fest is going to be bigger and spread out on 3 days so we're hoping to attract also a few metal heads from abroad.
Lastly, We would like to wish the band all the good luck. We can see the band exploring new terrioteries, good luck with your show in Ireland and Northern Ireland. Any last shout-outs?
We really appreciate this interview thanks a lot for your time and your support ! Greeting to our fans in Nepal, we surely hope to come there and meet you soon.
HAIL DEATH METAL !