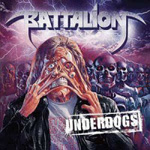 Silverwolf Productions – 2010 – Switzerland
I should make this clear that I've never listened to a thrash metal band from Switzerland before. You can see classic German affect. They aren't pure thrash metal, they seem to combine the 80s heavy/speed metal with early 90s thrash metal.
Album cover is really crazy. Purple doesn't generally feel good but this is the choice of the band. Thrash Maniacs song adds a really good instantaneous to the album. I have to say I find too classical. This kind of bands are generally grom the middle Europe then.
Lyrically, they used metal-headed lyrics. Thrash Maniacs, Headbangers, Running Alone songs are for the ones who loves powercourt riffs. Don't look like weirdos! You have to listen to the album!
7/10