Reviews
BASTARD PRIEST "Under the Hammer of Destruction"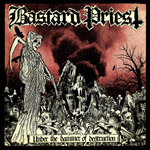 Pulverized Records/Blood Harvest Records – 2010 – Sweden
Swedish band Bastard Priest is appearing in front of us with their first album, they played the songs in the album before, they re-played some of the songs from their 2007 and 2008 demos that they never published. But there are new songs too. They called themselves as death metal band but it seems that album is named punk metal album with dirtiness, groovy rhytm and vagrant vocals.
I love this genre, bonded to their roots, because there is black, death, thrash and punk in it. Sometimes it felt like Dismember/Unleashed/Entombed but maybe it felt like this because of those bands are known Swedish bands of the genre.
There are cliche but hard songs like Blasphemy from Hell, Evil Pain, Power of Death. If you like dirt, aggressiveness, groovy rhytm, what the fuck are you waiting for?
7.5/10