Ukraine black metallers BALFOR have unveiled the cover artwork and track listing of the group's debut effort, entitled "Barbaric Blood".
The "Barbaric Blood" artwork and layout was designed by Martin Saavedra at Uruguay's Spina Studio (ABORTED, DAATH, DIVINITY).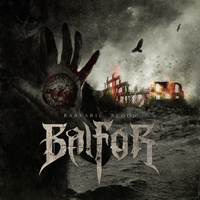 Tracklist:
01. From The Ashes (…The Beginning)
02. Behold My Hate!
03. Shadow Of My Raven Wings
04. In A Thunder Of Ancient Glory
05. Pure Barbaric
06. Light's Demise
07. Kingdom's Blood
08. Voices Of Wilderness
09. The Perfect Fire
"Barbaric Blood" was recorded at Blacklight Studio, Ukraine during August 2009, with the effort mixed and mastered by Shaddar.
An official street release date for "Barbaric Blood" will be announced soon.