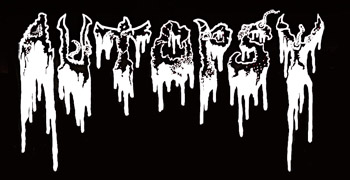 At first,I must mention that we are very happy to have a chance to do this interview,Eric.How are you nowadays?How is life going on for you and Autopsy?
Eric Cutler: Well I'm stoked to do this interview, thank you! I am doing well. I have a few different musical projects going and it's a lot of fun. Autopsy is pummeling forward as usual. We are taking a little break right now but I'm sure will be back to it soon!
After a long break since 1995,mighty Autopsy backed in 2010.What things have changed for you and in scene in 15 years?Would you tell us the stories of your disband and reunion times?
Well we are all a bit older now for one thing haha! When we quit it had become something that wasn't fun anymore for me. I didn't like the fact that the metal scene had become weak and I needed out. We got back together to do a couple tracks for the re-release of Severed Survival but didn't plan on anything more. The Maryland Deathfest guys got us to do their fest and we had a great time so we decided to give it a go again! Since then we have been pretty busy cranking out some death metal in the style we have always done!
How are the reactions for Skull Grinder?And you are just gonna releasing a compilation, ''After the Cutting'' in 2016,can you inform us about it?
Skull Grinder has been received very well and we are really pleased with the record. After the Cutting was already planned and we decided to add something new to it for the fans that already had all our stuff. Then we decided to release it separate from the box set. It is a beast!
In 2016,what are your plans for Autopsy?Any new release or tour?
We are not able to tour due to family obligations at home so we try to get out and play festivals and one off shows. Not sure if we will do any shows in 2016 but we are trying to set something special up at home here. We haven't started working on new material yet but that will come soon as well.
You have just released a MLP called Putrid Decimation of Necrosic ,a band is your side Project formed with some cool members.Can you tell us how you formed the band and other details?
I write a ton of songs and needed an outlet for some of them. I got together with Erika Ousterhout and we formed Necrosic. It took a little bit to get the line-up dialed in but we think we have it going now. We just released our debut on Nuclear War Now productions and it crushes! There will be more Necrosic coming soon as well!
You and Chris invented the monsterous Autopsy in 1987,how did things happen?What things you focused on at first as Autopsy?
We wanted to play heavy music and have our own sound. The ideas we had came from some influences that were mixed and nothing that we had heard before. At the time we started there wasn't many death metal bands and we wanted to be heavy and offensive!
As a guitarist and composer,absolutely you have a sick style in your guitar compositions.What do you focus on your guitar riffs?Do you have some tricks that you usually do?What things have progressed in over years?
Bottom heavy riffing and sick harmonies. I like to use the fifth as a harmony because it sounds fitting to the riffs I write. The idea is not to progress too much in writing riffs and to keep it sounding like Autopsy and it works.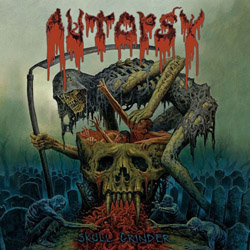 Lyrically,Autopsy is a very first band which using the most extreme ones and gore lyrics and themes in metal music history.How did it come up?
We watched a lot of horror movies and still do. In the early days it was movies like The Gates of Hell, From Beyond, Fulci movies, Creepshow, and many others. We also read horror novels and get inspiration there too, such as Brian Keene and Richard Laymon.
After your reunion,all fans agreed that you have comeback with more and also with stronger albums and I am sure that lots of young metal music listeners you have won with Macabre Eternal,Headless Ritual and Tourniquets fullenghts and longplays.How did it happen?How do you save the old spirit and keep it going on?
When we started writing new songs we knew it had to good or we couldn't do it. We aren't willing to do it if it doesn't kill!
Let's talk about Necrosic again.Any live shows updated nowadays?Any fulllenght album you are working on?
We are playing the California Deathfest 2016 and working on a couple splits as well as a full length. Necrosic has been in the making for a few years now and it is starting to get going. We are chuffed with the songs and ready to slay!
Between the years of 1995 and 2010,Chirs and Danny went on their musical career with their project Abscess in the vein of Autopsy at less or more.What do you think about Abscess?And what things you dealt with in that period,Eric?Did you have any project or something?
I have always loved Abscess and didn't want to see the band quit. I took a long break. After awhile I started playing with some friends doing some original songs and some rock cover songs. We played Cream, the Rolling Stones, the Beatles, Jimi Hendrix, and some other classics. The band was called Apostrophe. It had my longtime buddy Ron Falcon in the band. He also is the Stage Manager for Autopsy.
How did you go on writing more doomy songs in Retribution for the Dead after Severed Survival?Do you think that Ep and its' guitar ways you wrote influenced your song writings in Mental Funeral and other releases later?
Nothing we did affected future songs. We always write what is going on for us at any given time and we stand by everything we have ever done. We will never try to write another Mental Funeral and any other record because then we would be pressing instead of letting the music come naturally. We are not about nostalgia, let the sickness flow! Blaaaagggghhhh!!!
''Horror,Blasphemy and Gore'' is my answer ifsomeone asks me how you define Autopsy basically.What horror stuffs back in 80's influencedyou much in books,comic books and movies?And nowadays what are your advises?
Well, I talked about that earlier but my advice is to do what others are not doing. Play what you want to hear that no one else is doing!
Who are your favourite guitarists in death metal scene and other scenes as a guitar player?What guitarists influenced you in the very first days?
Danny Coralles and Christian LaRocca are shredders! I also dig Alex Bouks, Bob Vigna, Patrick Mameli, Gav and Baz of Bolt Thrower, there are so many! Some early influences and faves are Randy Rhoades, Michael Schenker, Tony Iommi, Rick and Bruce of Trouble, Jeff Beck, Keith Richards, Pete Townshend, Rory Gallagher, Dave Murray and Adrian Smith, K.K. and Tipton, Steve Vai, and of course Frank Zappa. There are so many more but here are a few!
There's a book project by Dennis Dread,is it related to After the Cutting compilation?Can you inform us about the book?
Yes it is included in After the Cutting. The book started out small and took a life of its own. Dennis is a brother and the book rules! It details so much about Autopsy and only Dennis could have done it. It has many photo's never seen, many stories never told, some great artwork and a writing proficiency that Dennis is gifted with. It's better than the music! Flip it open, light a joint, have some whiskey, and enjoy the madness!
How do you write your songs?Any dedicated way of work you have?
We are our own worst critics. We write songs, record the ideas at home, analyze it and decide if it is good or not. Once the decision is made that it is good we bring it to the other guys in the band. By then, it is an Autopsy song!
You never get slower since you reunited and get back to scene if compare to other old school bands,many records and ep's out there and I am very happy listening a new sick record from you nearly every year.How do you stick to your guns knitting?
We hold ourselves to the standard we established. There is no shortage of ideas and material so we keep churning it out. We are happy that the music is well received and we have no plans on stopping.
Thanks a lot for your cool and kick-ass answers.Please tell your words to die-hard fans who reading this good chat out there.Salutes!!!…
Look for more gut wrenching death metal, we are coming for you! Thank you for the interview, you rule!