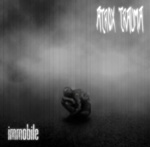 Self-released – 2012 – Hungary
The Ungarians ATROX TRAUMA released in December 2012 their already second demo.
You can hear here two brutal Thrash Metal songs. Energetic and with classical riffs ATROX TRAUMA make a swipe at a musical counterstrike. Thereby the riffs can be also melodic without thereby loosing its hardness. Partially halting riffs take away a bit of speed without thereby getting boring or even getting verbose. Severe double blast drumming emphasizes brutality and nativeness of the two songs. Rounded off by powerful, dark growls the listener receives here a full-service in the matter of power and rawness. This time the lyrics are written in English language which gives the whole an international touch. Technically impeccable recorded the demo offers a good insight in the musical skills of ATROX TRAUMA. Listen to the demo and judge yourselves!!!