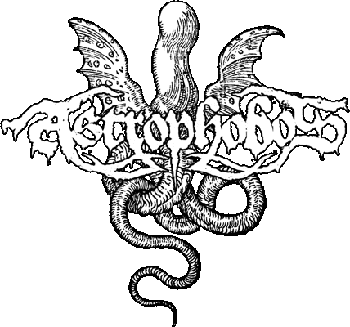 First of all, please introduce yourselves.
We are Astrophobos, a Swedish black metal band formed in Stockholm in 2009. Astrophobos consists of three members, Micke Broman (vocals and bass guitar), Martin Andersson (guitar) and me, Jonas Ehlin (guitar). We've played together in different bands for quite some time, but in 2009 we felt the urge to kind of go back to the beginning and seek out the roots of our musical endeavours. You know, back to the music that inspired us all to pick up instruments and start playing. Therefore, our music is heavily influenced by the Swedish and Norwegian black and death metal scene of the nineties.
Has the band's name Astrophobos a certain meaning to you?
The name comes from a poem written by H.P. Lovecraft. An interpretation of this poem could be that things that appear dazzling and marvellous at first sight might not always be just that. Perhaps, kind of like our music, enchanting and stupendous at first, but make no mistake, it will corrupt your soul and drive you to complete insanity!
Do you have any role models?
I think we pretty much work as our own role models and inspire each other. As stated before, we are influenced by the black and death metal scene of the nineties. That music is a great inspiration, but of course is not our only source for creativity. Writing music together has always been a very central part of Astrophobos and in that process I think we trigger and stimulate each other to evolve our music. As for image and appearance, the need for role models doesn't really apply anymore.
In 2010 your EP Arcane Secrets came to the market. Do you have any plans for a new release or is there already any new material from you?
Our debut album Remnants of Forgotten Horrors will be released in the spring of 2013, on Abyss Records. The album was recorded at Garaget Studio with Erik Nilsson (Aoria, A Swarm of the Sun), the same guy who helped us record Arcane Secrets. It's a full length album with 8 tracks, and we really think it came out great. People who wanted a follow-up to Arcane Secrets won't be disappointed. It has all the elements of the EP but it's more elaborate and diverse. We've also recorded a video to the song Soul Disruptor, which is the opening track from the new album. At the time of writing, it's unfinished, but the footage we've seen so far is really promising. Very dark and sinister.
Which motives do you have to play black metal and no other music?
Well, above all, a great passion for the music. We've been into this genre since our early teens and now, in our mid-thirties, this is still what musically binds us together. We've all played different kinds of metal before, in various constellations, but this kind of black metal has always been there one way or the other, and because of that, I think we feel that this is the type of music where we are really free to express ourselves. It all comes very natural.
What about a tour or festivals this year?
Sorry, no tours or festivals booked right now. Hopefully in the future, though!
Where do you see the band in five years?
Well, hopefully we'll find a drummer who wants to be a permanent member of the band. (If you're a drummer and interested, let us know!) Then we could start playing live more, which would be really awesome. Other than that, we'll keep on writing, playing and recording music. That's what it's all about to us – the music.
Any last words to your fans?
First of all, thank you for supporting our music! It means the world to us. If you liked Arcane Secrets, check out Remnants of Forgotten Horrors! You won't be disappointed. Hails!