Hi to you As my world burns from Extreminal webzine in Turkey! I guess, An extreme star arised from Spain and its light seems like so powerful 🙂 Ok, i want to leave the philosophy and i want to skip to my questions as soon as possible.
What is the story of "As my world burns"? And How was it been founded?
Raul: I knew them because we rehearsed in the same building with my band, I heard they were looking for a singer and I went for it.
Txus: Alex Alberto and me have an old band and we needed a new vocalist and a new bass player, and Raul and Miguel we surprised with his amazing style. We deciced to change the music style to more deadly and progressive sound.
You are lucky in fact, rather than the other extreme bands because your first job has been registered with an album. How did you provide to contract with Noisehead records?
Raul: Well, Noisehead Records contacted us and proposed signing a contract and we thought it would be great to record our first album in Vienna and publish it with Noisehead.
Txus: As raul said, the new was awesome, record our fisrt album in Austria wow!!!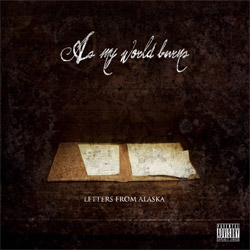 I like some experimentation and diversity in dose. I've really gotten excited when I listened your album. Everything was in dose,vigorous,strong and also your sound too.Did you try different somethings when you're on the recording phase? I mean, How did you create your own sound?
Raul: To be honest, we had every idea very clear so except form some little arregements we recorded everything as planned. We've always loved low tunnings and I think the low tuning together with our noisy style give us a very personal sound.
What are theme of your songs? What do you want to tell to your listeners? Could you please give us information about the story of your album and lyrics?
Raul: I think we try to picture a situation with words and music and create feelings and sensations, I just picture a scene and the reader has to interpret what he sees. When writing the lyrics I just sit in my bedroom, close my eyes and images start coming to my mind, it's not like I write the lyrics but the song does. It's a technique that some surrealist painters like Dali used to create.
Whose job is it to make the compositions or the musics and write the lyrics? I mean how do you organize your missions within the band? And How are your moods while you compose your songs?
Raul: We all write the music and it's my job to write the lyrics. I think I'm kind of melancholic when I write songs, I just
try to show a glimpse of my inside turned into music or words.
Txus:We write many riff guitars and normally songs at home, after we play on the rehearsal room and we made songs arregements
Could you please give us some information about your promotions and concerts? Were you satisfy from the organization and advertisement works? Alright, What do you generally think about the extreme music and its crew? 🙂
Raul: Well, Txus,Burning You Productions and Pegada Brutal promotion do all the work, and we couldn't be happier, we have an amazing guitar player and manager, all in one! Regarding extreme music, we all love it and hear all genres. On the other hand, crews are a world, it depends on people, I think they are all different. You can find good stuff and bad stuff
Txus: I love to do this work, it´s so stress but i love it, ha,ha…
I want to ask you more general questions.Have you ever gotten a funny or weird moment when you're on the stage? If you have gotten it, could you please share it with us? 🙂
Raul: Once we had to play at 4 AM and we were realy really drunk, I even fell on the stage…
Txus: It was one of the best moments on stage and there more like play in a gig everynight!!
What do you do to live? Do you work, study or are you only musician?
Raul: I work as an English teacher and I'm about to finish my degree in English philology.
Txus: I work in a delivery company
What do you do in your free time? or have you got any hobbies?
Raul: I try to get involved with music as much as I can, writing songs, lyrics, studying music, going to gigs, listening to Cds…
Txus: Music, more music, music, movies, books and of course bar!!!!!
Which bands or music kind were you impressed by in your life time? What are your favorites?
Raul: Loads of them, but I guess my favourites are Mastodon, Everytime I Die, Norma Jean, Dillinger Escape Plan, Poison The Well, Architects…
Txus: Definetly, good music. Bands like Opeth, The Dillinger Escape Plan, Mastodon, Muse, The Hellacopters, Metallica, Burst and many more
Are you interested in alcohol? Which ones are you like most?
Raul: We all love beer.
Txus: Absolutely YES
One more question for you. Could you please give some advice to extreme musicians like your? And do you have any last words you want to add for your listeners and supporters?
Raul: Thanks a lot for the support, it means a lot.
Txus: Thank you so much for TheReview and interview, maybe someday will play on Turkey

Thank you very much for the interview and we hope so you will be more successful in the future. Stay Extreme!!!
www.myspace.com/asmyworldburns