Kranj, Slovenia-based death metal newcomers Armaroth have just self-released their debut EP called False Vision.
False Vision EP is now available as a name-your-price download on their
Bandcamp
.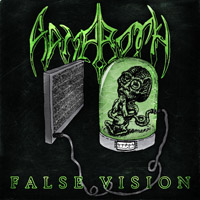 Tracklist:
01. False Vision 01:14
02. Modern Man 05:24
03. High 03:38
04. Labyrinth Of Greed 04:12
05. Cell That We Bleed In 04:56
Armaroth is a brutal music machine that dares to deliver an experience beyond the horizons of comfort. The gears started turning in 2008, launching chaos and destruction of the mind, which were incarnated in 2013 as the False Vision EP. The EP's first listeners have reported severe damage to their perception of the world and of themselves. The machine is honoured and eager to continue its work. So far it has dominated most of its homeland stages, and that is only the beginning. Listen and test your truth. Armaroth will see you soon!