News
ARMAGEDON : new album in October !!!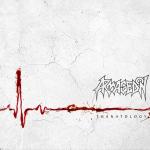 October 2nd sees the release of the new album from Polish extreme metal legends, ARMAGEDON. Album will be entitled Thanatology contains eight new songs. Recorded and produced by the band and Arek Malta Malczewski at the Radio Gdansk studio, Piano Art Kwidzyn and Sound Division.
The band commented: Destruction begins! It's been nearly four years since the release of Death Then Nothing struck. We've returned much stronger, more mature and with devastatingly good material. The sound is wild yet precise with nostalgia in the lyrics. The new album contains eight highly disturbing songs, wrapped in a unique sound production. We are very proud of our new work! During September we will present to you several installments of Thanatology. Look out, we are coming again over the horizon, an even stronger Armagedon!
The first song fans can hear from Thanatology is entitled Cemeteries which can be heard here: http://armagedon.bandcamp.com