UK death thrashers Arceye have posted part 1 of a 2 part studio blog which takes the viewer behind the scenes of 'At First Light', the bands upcoming new album.
Part 1 of the blog shows footage of drums being tracked at Foel Studios in Wales with renowned producer Chris Fielding (Napalm Death, Cerebral Bore, Darkest Era). "We had previously mixed the first album 'The Divide Between Chaos & Order' there and enjoyed working with the engineer Chris Fielding so it was a good option to use this time round", states drummer Craig Mackay. "We also know a lot of bands (Xerath, Envy Of The State, etc.) who have used the same studio and have gotten some great results."
View 'At First Light' Studio Blog Part 1 below:
'At First Light' is the second full length from Arceye and will be released worldwide on August 7th via Hostile Media. Commenting on the album the band said: "This album we feel we have really trimmed the fat on our songwriting and made it the best it could be! If we didn't think that it kicked ass it didn't make the cut! We also stepped up the production value and worked with Scott Atkins (Sylosis, Cradle Of Filth, Amon Amarth, Gama Bomb) on the mix and master. The meaning of 'At First Light' is a representation of where we felt we were as a band when we were writing the album. Since our last release we have gained two new members, both with a writing influence and we've developed more of a vision of the music we wanted to play." 'At First Light' is the follow up to Arceye's highly acclaimed debut album 'The Divide Between Chaos & Order' which saw the band appear in pages of Terrorizer and Metal Hammer and was hailed as "hard-hitting" and "balls out thrash."
Last week the band posted 'Since The Divide' a clip revealing behind the scenes footage of the writing process and some pre-production work on the album.
Watch Since The Divide' below:
The album art was created by none other than Craig Mackay of the band himself.
"The album artwork, title and first track tie in together as we wanted this to be our opening statement, with the theme running through the album. The idea behind the name/artwork is that the wolf climbing the mountain is always hungrier than the wolf on top. We feel we have gone through a rebirth as a band and this album is all about the climb to get us on to the next run of the ladder. Our Drummer Craig Mackay did all of the artwork for the album including painting the front cover and all the band portraits in the booklet."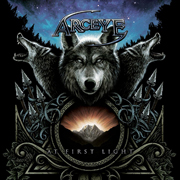 Tracklist:
01. At First Light
02. The Storm
03. The Longest Drive
04. I Silently Wait
05. Sirius
06. Brother Disarmed
07. Prey Forgiveness
08. Damage Done
09. The Thirst
10. Dusk