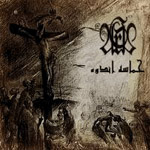 Ragnarok Records – 2008 – Iran
In Middle East, always black metal bands emerge, I don't know what's happening out there. Cold countries' music is in hot countries. This band is a single-membered band. Band has many products but this is the first release by a label.
In lyrics, it's told about Persian legends and rebellions, song names are Persian, so I can't be sure. I can't understand vocals too. Album is generally depressive and you can hear region's musical influences in the athmosphere.
Probably this a home recording and programmed drums aren't good, tones are not bad but it feels electronic. Using distortion in vocals is a good thing. I liked dirty guitar tones.
There's vocal in Sholehaye Sard, first song. The others are instrumental. Aras has a different side than other black metal bands, more original. I liked "Rhakte Khak" and "Raghse Baad". The ones who seek for a different thing may take a look.
6/10