News
ANTAGONIST ZERO 's new album going to be release in august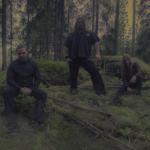 As the Finnish summer draws to an end, the once white nights grow darker and colder by the day. Antagonist Zero delivers a fitting soundtrack for the season, complementing the darkening skies with a blend of atmospheric melodies and aggressive melancholy. On August 14 the band's latest offering, No Tears MCD, is released via Inverse Records. No Tears continues on the path set by Antagonist Zero's previous releases, the critically acclaimed Doomed and Nighttime Harmony, blending together elements of doom, death and post shades of metal.
No Tears consists of five songs: three originals and two covers. The originals are a harbinger of an upcoming full-length album, demonstrating new elements in Antagonist Zero's music – such as the title track's this-will-get-stuck-in-your-head riffs, Profound Oblivion's wrecking ball groove and Suru, which is sung completely in Finnish. The two cover songs are familiar to listeners from the band's live shows: Doom:VS's melodic doom suits the band like a glove in the form of The Lachrymal Sleep, while Missä muruseni on, by Finnish pop queen Jenni Vartiainen, has received a workover which has already charmed live audiences all over Europe, Russia and China.
The release of No Tears will be celebrated on August 15 at Dark River festival in Kotka, Finland, where Antagonist Zero will be playing with such bands as Ghost Brigade, Poisonblack and Stam1na. More tour dates will be announced soon.
Track listing:
No Tears (9:12)
Profound Oblivion (7:22)
Suru (7:27)
Missä Muruseni On (4:37)
The Lachrymal Sleep (7:26)