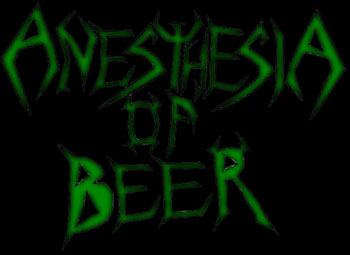 Here is the short interview with the Brazilian Thrash Metal group A.O.B…..

I do not have much information about the group, would you please tell us briefly about your past?
Anesthesia of Beer started in 2007 when four friends decided to join together and make some music without comitment, just to have some fun. Firstly we tried to play some covers but as soon as we starded to rehearse we saw our way making our own music. At the time of our first gig the band was about to end, but our first show was so exciting that we resolved to go on with the band. At that time our first guitarrist was already left the band, and later after the release of our demo our singer left the band for his personal reasons. Now the band line up is: Vanildo Corpse Grinder – Drums and Screams . Toflito Diniz – Noise Bass and Bruno Pimenta – Trashing guitars.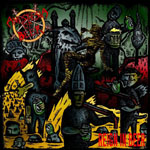 Is Reiging in Beer your first production? This was your only production I could find?
Yeah, our first and until so far only recorded work , it was released in june 25 2009, the sad day Michel Jackson left the earth. We are now promoting our demo and working on new songs, and working for release some new material for this year.
As your style, I see that you slightly move to punk/heavy metal types. It could not be called pure thrash metal, but you have an old school type of music. Which groups are you influenced by?
The punk and hardcore has much influence on our compositions. Slayer it´s a great influence to us , such as Tankard. To quote other bands we like such as Suicidal tendencies, DRI, Excel, Força Macabra, DFC, Judas Priest, Misfits, Municpal waste, SOD, Nuclear assault, and lots of others.
I think, the name of the group is a blend of Slayer and Tankard, does it have an interesting story?
At the begining, Vanildo the drummer, was thinking in Anesthesia of Death to be the name of the band, but we try to find for a less darker name. And the name of the band had much influence in our lyrics.
You have United Forces as your S.O.D cover in your demo, which other groups do you play?
We played in our shows some Sand more paramedics, tankard, testament and some SOD as you had already said.
On your website you have a video which includes displays of your concerts and pictures taken from various news. Would you please tell us about the lyrical style of the group?
We talk about our daily life, some nonsenseless lyrics are part of our compositions too. We also had some political aproaches and some trash , zombie like horror films take place in our words.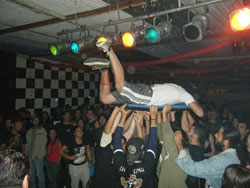 Your stage performance seems quite successful, you have limited fans, yet they all are having fun. Is the main aim of your group to entertain on stage ?
Yeah, we play mainly to entertain ourselves and when we have fun i think it´s easier to the public to have fun with us. It´s a vicious circle of fun as more we play and the public mosh, more and more fun are expecting to come.
Would you please tell us about your future plans, album, tour..etc?
We are accepting invitations, are you interested in invite us to play in Turkey ? We are going wherever people call us. As we said earlier we are composing some new shit to release this year.
How do you get along with alcohol, what are your favourite drinks?
We get along very well with drinks and foods, we´re a band of gourmands. We love beer, cold, refleshing, revigorating and allucinating beer. But we like other drinks to , like cachaça ? Do you know it ? It´s a typical drink here in Brazil, it´s the base of caipirinha. But we´re not limited to drinking, other pscytropic material are also welcome.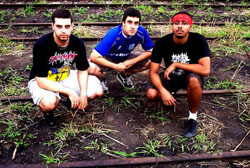 Do you see your style as a group close to hardcore or metal market?
Just in the middle of all this thing. We had influences from both sides and we try to put this in our music. So we think that we are just in the divinding line, and we hope we can satisfy to the both sides.
Finally, a different question: I must admit that in sports as Brazil specially in football you are a great country, do you have a favourite team?
Oh! Our favorite team in Brazil it´s a team from our town, called Goytacaz, the blue and white warriors from the goytaca plains. As you touch in the subject we´re trying to get in touch with a firm of the team to record the anthem of the team. It´s a small team, not figuring in the mainstream of brazilian football for many year but I ( The Toflito the bass player ) love this fucking team, it´s a passion, that you can not describe or chose , you´re just born with.
If you have anything to add,let us tell it to EXTREMINAL.COM readers…
First of all we thank you guys for the oportinity to interview us, and we are most pleased that someone as distant as Turkey like our song. Hope you had enjoyed the interview, and do not forget to visit our myspace at www.myspace.com/anesthesiaofbeer and fell free to e-mail us at any time at [email protected] . Hope to see you again soon.