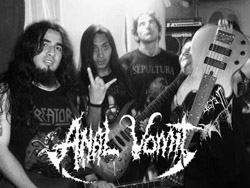 Hails ANAL VOMIT! Hails Possessor! You've formed up the band in 1992 from the Peruvian Hell! Was Anal Vomit was the first band of the members? Do you also have any other side projects or bands?
A nal Vomit is procerated in sin, in early 1992.i've entered in 1997, in 1997 Anal Vomit started to make a serious metal work.i do not know about other members why its bastard did not continue the battle and other so death.yes i have a project but not metal music.it is a ancestral music with prehispanic intruments wind and percussion called "pachacamac".i travel together with my band "Pachacamac" to the middle orient coutries like Egypt, Syria, Jordani And Lebanon…
You've released your first demo 'Pregnancy Rotten Masturbator' in 1993. Would you like to give me some information about the recording sessions of the demo and what was the recording type?
I believe i can say some about it. I liked the grind and dirty sound, chaos and devastation. It is a good tape only to maniacs, addicts and ezquizofrenics hehehe
You've never gave a long break since you've formed up and had a lot of releases. Which was the first label you've had the agreement with? Are you currently working with Blackseed Productions?
I am living the metal to 666%. I liked all my productions but more "demoniac flagellation " . Now Anal Vomit signed to Icarus Records and now we are recording the next assault and descomposed new insultes to the christians and posers!!!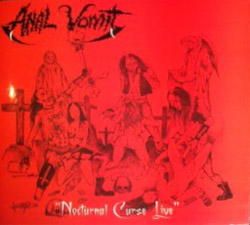 Let's talk about your last release 'Nocturnal Curse Live' EP. Can we expect a new full-length album in 2013?
Yeah in 2013 Anal Vomit rehearsed 3 productions, 2 vinyl. Yeah it's Nocturnal Curse live so make in a night lustfull, chaos, dust , alcohol in 2001…
Can you critisize your first full lenght album 'Demoniac Flagellations(2004)' with the last album 'Gathering Of The Putrid Demons(2009)? What were the differences between,about the sound or the lyrics?
Not forget ..between is a "depravation"..but in demoniac falgellation was the best sound and good times, in 'gathering of the putrid demons' so very drunk and addicction.is past time. Now no more, it's trouble. But lyrics are so similar.
You have a rich musical theme with being a black/thrash/death metal band as the legendary band Sarcofago,which you've also taken the band name. What are your influences other than Sarcofago?
Sarcofago is a so good band but for "Inri", I think. Now it's a dead band.there are bands more old Sarcofago in South America. Sarcofago is not my only influence.
If i'm right,your artworks have been done by the killer artist Christophe Moyen. He also had many killer artworks to so many good bands. So in my opinion,that's a great choice of yours. Will you continue with Christophe Moyen in your upcoming releases?
Yes Moyen and Juanjo castellanos (spain).. 2 demons possessed by evil, for me they make a fine black artwork! I believe for next production will be with Juanjo Castellanos.
Do you have any plans for a split album with another band?
Not now. We have very much job in recording and desconposed new violence tracks!
What do you think about the Peruvian Metal Scene? Any favorite countries that you like about the scene or the fans?
All scenes are very important. I liked all scenes when Anal Vomit made shows. All Latin American.. is a great scene!
Do you have any confirmed shows/tour in the near future? We would like to see you live in Turkey as well.
Yes we have very much invitation for fests and bands to make shows in Europe and Asia ..but not easy get a visa to Europe from Peru….so amazing Turkey, full history and culture ..we wanna travel to Europe! yeah Turkey is so amazing to play live ….
Very thanks! I believe it won't happen in near future…
Any other things you want to tell for our webzine followers?
Keep in hell maniacs.. 666…arghhh!! thanks for interview and salutes to all demons, zombies and witches in Turkey….