Reviews
ANACHRONAEON "The Ethereal Throne"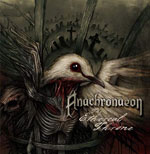 Stygian Crypt Productions – 2012 – Sweden
I've listened Anachronaeon and reviewed another album before. I know this band since 2002 and I've seen their evolution year by year. Their new album released by Stygian Crypt Productions, like before. I liked album's cover art much, it looks very professional.
Anachronaeon's songs always sound me like a doom metal band first, than it changes to melodic death metal, slow and heavy riffs causes this. Also some riffs sounds like black metal in this album. Vocals sound like mixed scream and brutal. I always like this man's vocals.
Anachronaeon is more brutal than other melodic death metal bands, and songs have their unique atmospheres due to well guitar solos and clean tone guitar parts.
I think this is the best Anachronaeon album until now. Take heed to this album!!!
9/10