AMPHITRYON is a 6 piece French death metal with lots of experimental elements. Their guitarist/ vocalist Matthieu Scarpa answered some questions for us…
Here's the most typical question I love doing, still very interesting. How did you end up with the name AMPHITRYON? Does anyone of you have any relation to Greece?
Matthieu: Amphitryon is the name we have chosen for the band since 1996. This is the first and only one. The line-up was a bit different but I think we always had and have a very good taste, a feeling, for mythology, mystical things and Ancient civilizations. The name Amphitryon deals perfectly with this state of mind.
Well, the band is not that new, in fact it's on the metal scene for 11 years. What was that prevented you from being more known in all these years?
We always have felt the need to propose a mature music. So we have taken a very long time to do our first recordings. The band has also been confronted to some changes of line-up. Anyway, Amphitryon is still such a young band! Members are only between 23 and 27 years old today. And we sure have time to give more in future ways…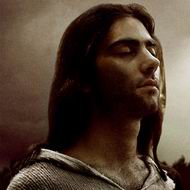 You started as most bands do… playing heavy-thrash-death. Who was the "guilty" for the completely different (and adorable to my opinion) sound you have now?
Amphitryon has atypical elements since its creation but maturity takes time before rising. Evolution of style is a musical and artistic dialogue, an experience and a consensual attraction. We all are a part of this evolution.
How do you get inspired and fix an idea to turn it to a song? Is it the music or the lyrics that put the base for that?
The "Sumphokéras" project is very unique and special, based on a novel written first as foundation. Then, the music, the lyrics and visuals aspects (with the painter Daniel Péron and photographer Rémi Vimont) have been composed and arranged. Each element is linked to another one and the result is a coherent fresco.
You have played with some major names such as Paradise Lost and SAXON. What was the most exciting moment you can remember from that?
Playing with such great bands brings a very pleasant feeling. I think we all have nice memories. It reminds me of an interesting discuss with Andre Matos (Angra/ Shaman) and bandmates about football…… and also about music! 😉
What do you listen in your every day life ? I mean, lots of metal band members say they listen to everything!!! Are you that kind of listeners or do you prefer some specific genres/ music?
I listen to a lot of different styles of music – from classical/ jazz to metal. And I feel a huge attraction for other countries, cultures and traditional music.
Most probably the band is not your all and every day occupation. How difficult is it for a musician to combine his/ her love for music (as well as the obligations coming out of this) with an everyday job or family or whatever.
That is not an easy way. But passion surely rules over us! Amphitryon is a daily occupation. There are so many ideas and projects to manage!
We all know that pop music is the one that sells most. Would you ever sacrifice your personal taste in music for the money and fame that pop music offers to an artist?
Most Amphitryon members are music teachers and all of us need to do something with music. Maybe parallel projects but I think none of us could do something one day just for money.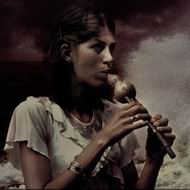 Something I find weird on the band is the fact that 5 our of 6 members sing. How did you manage to have so many singers and combine all voices?
Voices are the major evolution of Amphitryon! They are our band identity and 5 singers offer us so many ways to compose and arrange titles. That's a very nice and fresh way for doing music!
Are you thinking of adding any other instruments, such as a cello or violin or … I don't know…
We have no frontier for arrangements and we adore using strange, exotic, classical or non-usual instruments. Sarah is a violinist and Gianni a recent contrabassist for example. Anyway we have yet many more instrumentation possibilities…
What's the greatest band you'd love to share the scene with and why?
Probably My Dying Bride which is a very great one ! It could be so fantastic to deserve both bands atmospheres on the same stage!
Future plans. Although Sumphokéras is not that old, have you thought of your next work? How about a tour?
We are actually working on a DVD project with Emilie Bonnet who has just won the Best Clip Award 2007 in France. And we will play at RaismesFest on next September with Therion, Pain Of Salvation, Finntroll, After Forever…
I have to thank you for the light you gave us on the band. I leave you finish this interview with your own words or whatever you wanna say to our readers.
Many thanks to you for this interview ! That is always an honor to be supported in foreign countries. You can join Amphitryon online here :
www.amphitryon-music.com
www.myspace.com/sumphokeras
Many thanks for your support !!!