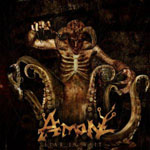 Amon Records – 2012 – U.S.A.
Wondering what has happened to the Hoffman brothers, well you don't have to wonder anymore, they have been creating a death metal masterpiece, "Liar in Wait". Creating metal under Amon, which was of course Deicide's first band name. Nine trax, to make your blood boil right out of your ears. "Liar in Wait" includes some masterfully done death metal tunez like; 'Liar in Wait", 'Among Us', 'Reaching for Flesh', and 'Spat from the Darkness'.
Eric Hoffman and brother Bryan, prove with this release that they will always shed extreme metal, and as members of one of the founding bands of death metal and beyond, should always be respected for their talents and contributions made to the death metal scene. I can't wait until they tour, this will be one bad-ass show, fer sure!!!! A must for your Death Metal collection.
10/10
Note: Physical CD available through paypal [email protected] $20 US $25 worldwide s/h included or send cash or money order to Eric Hoffman P.O.Box 609 Elfers, Fl 34680 Physical CD also available at Amazon with alternate CD cover. Ringtone at iTunes.