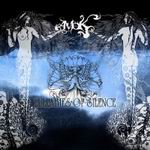 Fastbeast Entertainment – 2006 – Switzerland
When you look at the cover, it seems to be an album of a doom band. However, the logo tells you that a death metal will come up from inside, it is not difficult to guess :). I didn't like the cover. They could have chosen a better picture. What I have said for the cover is not valid for I will say for the album.
Amok is a true candidate to be one of the bands that technical death metal lovers would love to worship. This band has founded in 2001 and took the stage with various groups such as Necrophagist, Krisun, Protistute Disfigurement. They have released 2 EPs and this is their first album. One of the well known bands, Cephalic Carnage, has a similar style to Amok. songs of C.C. are more fluent in contrast to Amok's. Amok's songs have frequent stops and sudden changes, which I find very tasty. They often use brutal and scream vocals. To my ego-centric satisfaction, I'd like to hear more guttural though… But then again… That's their taste… Technical, deah metal, and grind… individual tastes of each group member sums up to a rich and quality music. Arithmic drum sounds and quality harmonies make each song very pleasant. In short, it is an album that is very nice to listen to and nice to have on my CD shelf. I strongly recommend it.
8/10