Reviews
AMBIVALENCE "Silicone Magic"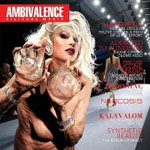 Gormageddon Productions/Stygian Crypt Productions – 2010 – Ukrain
And now a funny band from Ukraine.. what a cover shoot !!! The full length album of AMBIVALENCE is out after nine years from the date which the band is formed on 2001.
Like the cover photo, the booklet inlay design also looks like a fashion magazine, except the silicone surgery pictures on buttom.
The band made such as a techno sound with technical brutal death and some kind a death grind combination music, a clear bass tone like bone, technical progressive guitar riffs supports is well.
Its possible to hear blast-beat tones came by death metal and techo drum sessions and some progressive drum beats. I also had fun when the guttural vocals turns to a frog voice.
For this kind of music , the album has a good musical quality with joy, its not my style to mention a favorite song but in this album the song Syntethic Beauty is my favorite.
The Album is on my priority recommended list.
9.5/10