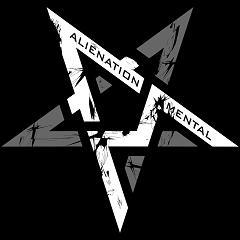 Hi,first of all,thanks for this interview…and please give an opening this interview with your words…
Hi that's first time I answer questions to turkie fanzin, so big hallo to the country with the moon on the flag. And thank you for the oportunity to say something about our band to your readers.
How can you describe Alienation Mental,it's music and begining of it?
We started before more than 11 years. Our beginnings were the same as usual start of the death grind bands. We were 4 guys who want only play fast and brutal music, and spend time with our favorite hobby. During the years we play better and better and now we are masters 🙂
We try to mix "standard" death grind parts with nu-metal, alternative and hip hop styles. I usually say that we play neo machine grind.
You entered the studio in '98 and did your first recording.may you tell us what comments you had have from listeners,press and labels?
In these times was everything new. You can be sure, that we were totally crazy when we reed first review in some magazine. It was great. More than 90% of reviews said that we were young and promising band from the heart of the Europe, and next stuff should show if we really are so good 🙂
In '99,you recorded a split record with malignant tumour,a band which played in Turkiye before and known by Turkish fans.how did it happen? and please your comments and thoughts about it?
Our first demo open the door to the label Khaaranus Production. One day came offer to record material for split with Malignant Tumor. We were pleased that we can participated on this project. MT was/is band with cool guys, and it is also famous group, the record help us, of course, to enter the underground world.
The bands which Genetic Threat and Inhumate,you recorded and released split albums in '00 and 01 with,what ideas you had have behind these records? what positive or negative effects of these split records? And How is the working with Inhumate whose very old and well-known band in death/grind?
On the split with Genetic Threat was released, the same material as on the split with Malignant Tumour, it was released only on tape for Czech republic.
Split with Inhumate is 7"EP. This record introduce us to the whole world stuff distribution. We get many fantastic reviews from whole world.
In these first 4 years we play and play and play. Each of our records were different, more brutal, faster, with better production, than one before…
Cooperation with Inhumate was really cool. They record first part of the split and we recorde the second part 🙂 thats all. If I have to be seriuos, we produce few shows together and I can say, that Inhumate is one of the best bands on the live show!!! They are totally crazy!
You did some line up changes in '02 in the period of Bal Spouter,your first full lenght,can you tell us both line up changes and Bal Spouter album?
Ball Spouter was for us break point in many ways. It is our most popular record, there wasn't any problem from first tones to the end. We get many reviews, that said, that we are new mix of Cryptopsy, Kataklysm and Cephalic Carnage. We toured whole Europe (together with Cerebral Turbulency). It was really successful period for us.
After the tour left Michal (guitar) the band. He wouldn't be able to play our music anymore. Now he play hard rock.
In the same year,you rereleased Kopferkingel demo from '98,whose idea about re-release of it with 3 extra songs more? And Did The Burning Dogma Records be advantage for you in The American market or not?
It was idea of Ricky Lockett from USA. He wanted to release something made by our band. In 1998 was Kopferkingel released only as tape. So we re-released this record as CD, we put there 3 live songs from our Ball Spouter tour as bonus, why not?
The biggest advantage for us was, that we were able to release something for our american fans in their country. Who can say (before 8 years) "the USA label contacted us to release our stuff?" 🙂
After 2 years break,you made a compilation cd for usa market.What reacts you took from usa market?
Re-released Kopferkingel was successful on the USA market, so Ricky came with the idea to release something more. So we completed our old materials and Rickys label released it. 1000 pieces were sold during one year.
Psychopathicolorspectrum album was a strange and different album with some mallcore and nu-metalic effects and parts in '05,what effects and ideas behind of these changes in 2 year after first full lenght? And you released this album from your new label Khaaranus Productions. Tell us something about this new label passing?
It is part of our evolution. As I said, we try to mix death grind with nu-metal. Many people think that there must be big change behind the composig of the PSYCHOPATHICOLORSPECTRUM, but there wasn't something like that. If you want to understand to our music, you should listen to our CDs more than only one time, it takes its time.
After recording of the last stuff, our second guitarist left the band. He has big healthy problems. So we were without guitarplayer.
After some time I was in one local radio show, where I was talking about our personal problems. Petr contacted me due e-mail.
Khaaranus Productions is small one man label. The Label UNIVERSEBOSSMASTER is drummer from Cerebral Turbulency, Michal Cichy. He is problematic and strange guy, but we love him for his support to our band 🙂 He released: ALIENATION MENTAL, CEREBRAL TURBULENCY, POPPY SEED GRINDER, AHUMADO GRANUJO (RIP), CARNAL DIAFRAGMA…
After the Europeantour in 2005 your guitarist Yarda left the group and this is important situation for the band. What do you tell us for this and what will do the band for this reason?
Yarda was "only" the help for the PSYCHOPATHICOLORSPECTRUM tour. He is the brain of POPPY SEED GRINDER. We was together in one tourvan so he help us to play second guitar during our live shows).
In 2006 you were in Obscene Extreme with Sinister, Gut, Dead Infection, Internal Suffering and Cripple Bastards on the same stage. How did you pass this fest? How was the viewers' reacts and what do you feel when played with this world's well-known bands?
On OEF it is always great time. You know, we arent typical band for OEF. 90% of the bands on this well known festival are crust grind bands. We try to produce something different, so the reaction of the audience wasnt so hot, but it is great to play for more than 2000 freaks!!!
In 2008,band will celebrate the 10th anniversary.Do you have a special thing for this?Album,compilation,split or etc…
No no no, youre wrong 🙂 we have 11 years. It is year ago, we organize special VIP show in our practice room. It was only for 30 our friends form various bands, labels, etc. Sepp (singer from Despise, Imperial Foeticide) was the speaker, and he introduce the audience to the whole history of the band. In the practice room were chairs, alcohol, weed, beer, table with food. We have there also interactive projection with pictures from the history…
Parts of the evening (during these parts were played slideshow with photos)
1 – 3 songs from demo KOPFERKINGEL
2 – 1 song from the material VENERATION OF THE BIOLOGICAL KILLING MACHINE (only bass, drums and vocals)
3 – 30 minutes break (weed, beer,…) supported with projection and our re-mix from split 7"EP THE RESTRICTED CEREBRAL CAPACITY
4 – 3 songs from CD BALL SPOUTER (one of the songs was played unplugged)
5 – 3 songs from PSYCHPATHICOLORSPECTRUM
6 – 1 song from the preparing stuff
7 – afterparty in the pub
(you can see short movies from this party on www.youtube.com/mentalalien)
What will you wanna do in near future as a band? Do you have any plans to make a tour or something?
We want to work on the new material for next year, thats our plan 🙂
Do you have any works or record something for new album? Any release date you have in your mind?
Ok, ok, I dont want to say the details… but… 🙂 We are working on new material (Perfecitizen). It will be pure essence of Alienation Mental.
What changes and new things in your sound should we expect for new record and songs?
I am not sure, that there will be so many changes. I can only say that there will be fast drums, heavy guitar parts in the nu-metal/death grind way, metal/hip-hop bass, and various vocal variations.
Have you got any plans for usa market?any tour or something?
Gooood question… NO 🙂 (but it would be nice)
What do you want tell Turkish music fans about your band and music?
I think, that there are words shit. The best way is, listen to our music, visit our web, myspace, or buy our CD 🙂
Thanks a lot for this interview,good luck and hope to see you around Turkiye…
Thanx a lot for the oportunity to tell something to the turkie fans of the brutal music. Thanx to everyone who was able to read this intie to the end. I could be great to visit your country, but it is little bit problematic, you know we are expensive band 🙂 …
If anybody wants to know something more about our band, feel free, visit
www.alienationmental.com
www.youtube.com/mentalalien
Or write me an email (jarda(at)alienationmental(dot)com)
Bye and once more thanx
Jarda and ALIENATION MENTAL