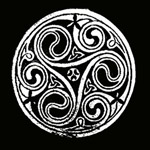 Self-released – 2013 – Italy
The Italians AL ARD released a 3-track demo.
What will I expect here musically? The first seconds of the demo rather sound sheer Industrail-wise. But, this impression is fast revised. Now, it really goes flat out! Namely in terms of Black Metal tones. Dark and equipped with Industrial sequences AL ARD get started here! Melodic insertions here and there equalize the hopelessness a bit without becoming thereby too soft. Synthesizer passages let develop a depressing, omnious atmosphere. You can even hear Drum 'N Base and dubstep speckles. The all in all three songs are rather arbitrary and differentiate alone because of the Industrial influences of many other Black Metal productions. The powerful growls support severity and aloofness. Severe drum thunderstorm is yet the icing on the cake of it all. Here blur musical genre boundaries and a very individual listening experience originates. By the variations of tempi the production receives dynamics and also individuality. Who is into Black Metal with a difference should grab here!!!
7/10