In conjunction with legendary New York hardcore band AGNOSTIC FRONT's 30th-anniversary shows in June and July, where they'll be playing their classic record "Live At CBGB" from start to finish, Bridge Nine Records has announced that the label will be reissuing the album on July 17. Featuring an embossed LP cover with the original "Live At CBGB" artwork, the effort will be made available on super-limited-edition red-white-and-blue-striped vinyl with multiple other colorways available.
Commented AGNOSTIC FRONT vocalist Roger Miret said, "With this year being our 30-year anniversary as a band with myself singing, I wanted to play a special show here and there so I came up with the idea of playing our classic 'Live At CBGB' set. This was the set front to back from our legendary live recording released in 1989. That was a magical time for the band and hardcore was thriving at its best in 1988 when it was recorded.
"As an honorable family member with the Bridge Nine crew, I knew that the label should be home to this special re-release as much as CBGB was home to AGNOSTIC FRONT.
"We are making this re-release very special for the record collector in a red-white-and-blue color and our timeless original cover embossed to add that punch it held back in 1989 as intense today in 2012! Along with this special re-release, we are doing a handful of special shows in the U.S. to coordinate with the release. This will be a great release team effort with AGNOSTIC FRONT and Bridge Nine… here it is — the glory days of 1988 New York City hardcore as relevant today, tomorrow and forever!"
Originally released in 1989, "Live At CBGB" contains 19 of AGNOSTIC FRONT's most notorious tracks. Allmusic said, "Recorded in the flesh at New York's punk rock Mecca CBGB in August of 1988, 'Live At CBGB' captures the band in all its ferocious glory. As Miret announces, 'This is the title track from our first album, 'Victim In Pain', the song's also called 'Victim In Pain',' the band is off. 'Pain' is quickly followed by 'Public Assistance' and later a song that calls for unity between punks and skins, 'United Blood'. The recording is highlighted by the band's hardcore anthem, 'Crucified'. Beneath all the band's political lambasting and calls for unity (although many of their shows were anything but), there's a good musical lesson to be learned from all of this. Because, if you've ever been just the slightly bit curious about what NYHC is all about, this release is a solid launching point."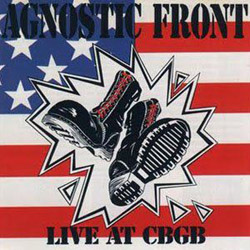 Tracklist:
01. Victim in Pain
02. Public Assistance
03. United Blood
04. Friend or Foe
05. Strength
06. Blind Justic
07. Last Warning
08. Toxic Shock
09. United & Strong
10. Crucified
11. Liberty & Justice
12. Discriminate Me
13. Your Mistake
14. Anthem
15. With Time
16. Genesis
17. The Pain Song
18. Fascist Attitude
19. The Eliminator
Source: Blabbermouth.net