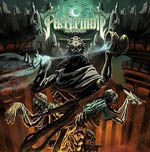 Galy Records – 2012 – Canada
Since 2007 the Canadians AETERNAM are up in musically mischief. Their latest achievement is the cd "Moongod" which is released by the label Galy Records.
"Moongod" starts very melodic which continues in the further course. Very melodic Death Metal which reminds in some parts of bands like BORKNAGAR are supported by powerful Death Metal riffs. The riffs are not too hard so that a homogenous master plan comes out. As a result symphonic songs develop which are by the orchestral music very eclectic and broad . Supported by clean vocals and even flutes or other acoustic instruments now and then which accentuate the melodic character of the production. In addition the dash Folklore samples is here the icing on the cake. The very technical drumming and growls slided in now and then give "Moongod" the necesary hardness not to space out into shallow musically waters. The whole is located in the mid tempo area. It developed a very varying and innovative cd by the use of many different stylistic elements. AETERNAM offer on a high technical level a soothing alternative to the other Melodic Death Metal productions. Check out AETERNAM and form without fail your own opinion!!! You won't be disappointed!!!