Vincent,how are you,man?How is life going on Acheron's front?
Vincent Crowley: I am doing very well. We are in the middle of recording our upcoming EP "THE AWAKENING" for FUNERAL INDUSTRIES records. And we are also getting ready for some upcoming shows.
In the begining of this chat,let's first talk about Kult Des Hasses full lenght album.Can you tell us the concept and story of it? how was it reacted in scene?
"Kult Des Hasses" is a album that brings back the old school sound of Death Metal from the late 80's and early 90's. Lyrically the songs are all tales of darkness and hatred. The fans and the mdeia actually reacted very positively to the release. Unfortunatly, due to illegal downloading the sales did not reflect that. I must say it is my favorite ACHERON release of all time.
Last weeks,you declared that Acheron is no longer releasing full lenght albums in near future and only will be a live band for gigs.What are the reasons behind that choice?
Because it just isn't worth spending thousands of dollars and so many hours writing and recording just to have people steal the recording online. Not to mention we have tons of music from past ACHERON albums to play live. As I said on the press release,there are always chances for singles of EP's in the future, but recording is not our first priority anymore.
You have lots of kult albums in back and now ,and musically and ideologically,you effected many of bands and metalheads in the vein of death metal and black metal,I thought.How do you define Acheron's standing and position in music business and scene?
ACHERON is a Satanic war machine and will forever be one. I apprieciate our fans support and bands with have influenced. We may be one of many bands in the world today, but ACHERON is the real deal and will forever leave our mark on the scene.
You are a lone wolf since you stayed Church of Satan behind in past.Would you please tell the story of your path ? What things have changed for you?
I still have the same core beliefs, I have just evolved and opened my mind a bit. I like to say I am a neo-Heathen that lives a Satanic lifestyle. My beliefs ARE NOT religious. It is a way of life. And I reject all slave cults that plague the palnet with their holy lies!
Your are the main man of Acheron,and there are always band members come and go behind the scene of Acheron and have had different line up's.Who are now in band's line up?When would we suppose a new record,ep,single etc. even after your statement?
Presently, ACHERON consists of Art Taylor (Guitar), Shaun Cothron (Guitar) and Brandon Howe (Drums). Our new EP should be out by the end of 2016. I do have some new ACHERON songs, but they will be put on the back burner for now. Perhaps another EP in the future. Just NO more full length albums.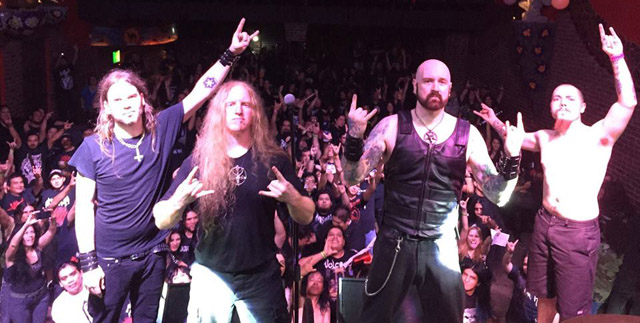 Would you tell us what thing are changed in nowadays' music business and scene in comparison with 90's underground death and black metal society and scene?What things changed for Acheron?
Nothing is the same. I'm not a big fan of the modern way of things. Nothing is special anymore. Discovering new music has lost it's magic. Fans are way too spoiled thesedays. And this illegal downloading without supporting music sales is killing bands. I'll take the 80's and 90's anyday!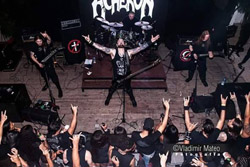 You are the very first one of the bands,maybe the first as I know, who started to stand against all kind of organized religions,not only christianity but also islam and judaism, and all other ones out there,too.How did you start up this path?How was Acheron reacted by muslims and judes?
I've always hated the holy cults. We focused more on Christianity back in the day because they were more of a threat. No Islam and Judaism is just a bad. They must all fall! And I will ALWAYS speak against their hypocrisy and bullshit!
How do you compose your songs and rituals for Acheron?Any special method?(Lyrics first and compose music and riffs and lyrics together or riffs,compose and lyrics)
I've always done most of the song writting, but everyone else helps on layering the songs up to make them the demonic beasts they are. I usually write music first then the lyrics. Sometimes I get a song title and write from the vibe of the song theme.
Any death threats you have taken nowadays from pricks?Have you taken that blah blah threats more in past or now?What do think about that religious cowards and sociopaths?
Not many threats these days. You get some here and there, but not anything to worry about. Back in the 90's we used to get threats on a weekly basis in the mail. I used to hang them on our wall at band practice. (Ha, Ha)
Vincent,you had a side project with Micke from Dark Funeral called Wolfen Society.How did you form that band? After Conquer Divine e.p,why did not Wolfen Society go on in past?Should we suppose a comeback?
WOLFEN SOCIETY was a fun project that we did back in 2000. We only recorded an EP called "Conquer Divine". We never did anything else due to all our busy schedules. There will not be a comeback. That is the past.
Do you listen any new bands?Do you follow the music scene of death metal,black metal etc. nowadays?Personally any fave's or hate's that can you mention?
The last year I have pretty much been only listening to my old school Metal. But we have had some good new bands open up for us. So there is some talent still coming.
Are you satsified from Listenable record's work for Kult Des Hasses ?
I have no problems with LISTENABLE RECORDS.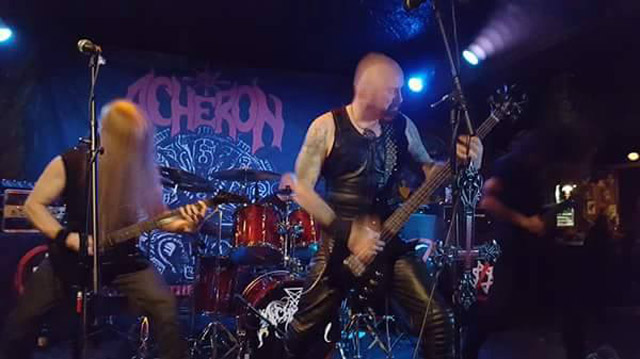 Nowadays,you are giving gigs independently in different organizations in Usa and South America.Have any plans to come for gigs or a tour to Europe?Any exact dates are planned to play in near future?
For some reason we always have problems getting booked in Europe. We hope to come over sometime in 2016 or 2017, but who knows?
I am very apreciated to make this cool interview with you,Vincent. My questions are done. Any last words to die hard fans of Acheron and our extreme metal music maniacs?
We hope you all check out ACHERON music and buy our merchandise. We hope to see all of you live someday soon! Thanks for your support! AVe Satanas!