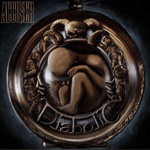 Red Shift Records / Metal Promotions – 2013 – Germany
One of the German Thrash Metal legends ACCUSER are heard from again. In April 2013 their latest trick "Diabolica" will be released via Red Shift Records / Metal Promotions.
Here show the gents that they haven't unlearnt anything after all these years. Perfect Thrash Metal of the extra class resounds off my loudspeakers. Classical riffs which sound mellow and aggressive are supported by powerful drumming. The melodic insertions however doesn't negate the hardness of the production. The all in all ten songs sound fresh and modern. They definitely go forward and thrill the listener. The distinctive, ear-piercing vocals which are presented very diversified reinforce the power of the music. The riffs partialy flip upwards like rokets and end up in fireworks of tones. Here is transported the spirit of the old Thrash Metal into the year 2013. ACCUSER do this pretty well and with enormous joy of playing. I can only recommend "Diabolic" to each Metal fan!!!