Reviews
ABOMINABLE CARNIVORE "Light Devours our Lust"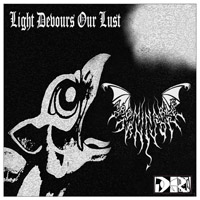 Visceral Vomit Record – 2012 – Bangladesh
As I was looking out for more bands from the South –Asian region, it was obvious that I would check Bangladeshi Rock/Metal scene too and last year while we did 'Occult Science of Metal' we came across with two very good bangla bands, Jahilliyah and Chromatic Massacre.
Abominable Carnivore hails from the capital city of Dhaka and plays a mixture of Death and Black Metal almost Behemoth like sound with double vocal attack. They have come out with their debut EP 'Light devour our Lust' which after being released independently within the country will be re-released by a Costarican record label ' Visceral Vomit Record'
Light Devours our Lust' is an impressive release by a debutants. The Ep starts with an Intro and it really shows what evil to expect with the rest of the tracks. 'Dirge of Disbelief and 'Nazara' are my personal favorite tracks off the record and really is capable of holding the grip on any extreme metal ears. 'Infusing the demon seed' is a fast paced Metal assault that is very well carried out by the band with mid-slow-paced tempo and an infuriating end. A headbanger's delight! The next track 'Preacher' keeps the momentum of 'Infusing the Demon Seed' going with some violent fast paced riffing and drumming. The next track 'Where Evil is Born' rather starts with a haunting guitar plucking before turning into a very behemoth like track. A great track nonetheless.
Production wise it not a very impressive record (the only not so good thing about the EP)and the band need to work on it in their future releases but we can't really make a big fuss about it, can we? We all are aware of the limitation that a band has to go through while putting out a record here at this part of the world but things are getting better slowly these days and we can only hope for the best.
It's a very good release and it will be interesting to see how the band will build on this.
7.5/10