Reviews
4 WAYS OF EASTERN BRUTALITY SPLIT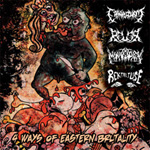 Extreminal Productions/Total-Death Productions – 2010 – Indonesia/Turkey
Now,that's some brutal and in-your-face release! Thanx to Extreminal Prod., we have four grinding bands, each with two songs, on one CD.
The madness begins with CRANIAL SCHISM from Indonesia. They play furious and technical death/grind in the vein of DYING FETUS and NECROPHAGIST and they have a bestial vocalist called Hendri Septriadi.


Next on the list is another Indonesian band – REVER which is a shortened name for REVOLUTION ERROR. Actually there is only one guy left from the original line-up here – Dicky Permana. He offers some brutal death metal with a drum-machine so it's no wonder that his music reminds a lot of the MORTICIAN stuff.
Third are MAKATTOPSY from Turkey – they start it all with an intro taken from the last version of "Nightmares On Elm Street". Well, the movie sucks a lot but the band is quite solid. They hit you with a brutal slamming death metal sound in the good old traditions of the US monsters DEVOURMENT and LIVIDITY.
The final cut is performed by another Turkish ba nd – REKTAL TUSE. Their two songs are total grindcore madness, fast and furious playing in the vein of HAEMORRHAGE and EXHUMED.

So in case you are into brutal death/grind, this 4-way split release is definitely for you! Those bands are able to make your ears bleed and your brain explode so stop wasting your time and give an ear to this CD!
9/10