Alman death metal grubu DISBELIEF 20. yılını "Heal" isimli albüm ile kutlayacak. 21 Mayıs'ta Massacre Records'tan çıkacak olan albümde 3 cover, 4 yeni şarkı ve "Shine" adlı şarkının yeniden kaydedilmiş versiyonu ile birlikte toplam sekiz şarkı yer alıyor.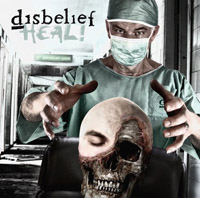 Cover'lar
– KILLING JOKE – "A Love
Like Blood"
– KING DIAMOND – "Welcome Home"
– CRIMSON
GLORY – "Red Sharks"
Orijinaller
– Certainty Of
Reality
– The Eyes of Horror
– The Last Force:
Attack!
– Isolation
– Shine (2002
albümüne ismini veren parça)
"Heal" DISBELIEF'in 2009'yılında Walpurgis Metal
Days konserindeki görüntülerini içeren bir bonus DVD ile birlikte yayınlanacak.