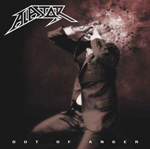 Metal Mind Productions – 2012 – Polen
ALASTOR sind, mit einigen Unterbrechungen, schon seit 1986 musikalisch aktiv. Die Polen haben Ende 2012 "Out Of Anger" via Metal Mind Productions veröffentlicht.
"Beaten" startet mit dem Titel-Track zunächst sehr ruhig und gediegen. Dabei baut sich langsam eine Thrash Metal Gitarrenwand auf, die in einem Drum gewitter endet. ALASTOR gehen hier direkt und ohne Umwege ans Werk. Dabei kommen die Songs frisch und energetisch und keineswegs verstaubt rüber. Abwechslungsreiche Riffs und ein kraftvolles Drumming geben der Produktion Härte und Beständigkeit ohne dabei die anderen musikalischen Elemente zu überlagern. Der Hörer wird durch die freigesetzte Energie regelrecht mitgerissen! Der variantenreiche Gesang, von klarem Thrash Metal Gesang bis Growls ist hier alles vertreten und die entsprechenden Background Chöre, geben "Out Of Anger" zusätzlich Nachhaltigkeit und Eigenständigkeit. Professionell eingespielt, hört man hier deutlich heraus, dass keine Anfänger am Werk waren. Wer TESTAMENT mag, wird ALASTOR lieben! Doch, bildet euch besser eure eigenen Meinung!!!
[pro_ad_display_adzone id="79086"]