Your musical past was rooted from 80s ,and Atrocity has been going on as a band over 30 years.I must mention that particularly you haven't prefered a parmanent musical style , there you have always got changes in periods as Atrocity . What are the reasons of these musical and genre changes ?
Alex: With ATROCITY we were always looking for new challenges, new musical horizons and ideas like show elements, cover artworks or also besides the music, just like the treasure hunt we started with the "Okkult" album. Our brutal side and the more experimental stuff like the "Werk 80" albums are both part of the Atrocity history. We are metal artists without limits. For me the number one rule in metal is "Breaking the Law". Our "Okkult" trilogy combines our roots with new musical ideas, and this is simply a new challenge for Atrocity after such a long history of diverse metal music! I love the whole lyrical background of the "OKKULT" trilogy about the mysteries in the world. With our new EP "Masters of Darkness" which will be released December 8th we return with a epic brutal monster and this is the kick start for the "OKKULT II" album which will be released in July 2018!! Be prepared!
Tosso: Yes, ATROCITY has always been a band that likes to push the boundaries and conquer new musical territories. We have never been a band that brings out the same kind of album over and over again. You can always hear progress, growth and change. Of course the band is rooted and feels home in extreme metal, in fact ATROCITY even was the first german death-metal band evolving from Germany, together with our friends from MORGOTH. But to avoid getting bored and stuck we always set for new horizons and musical adventures. MASTERS OF DARKNESS clearly shows the band enjoying its core skills in brutal, extreme and dark music. This is ATROCITY in 2017. And yes, regarding the bigger picture, "Masters of Darkness" is the starting point of the "OKKULT II" period. Since the release of OKKULT in 2013 we are working on this dark, occult album trilogy.
Your last album Okkult was released in 2013 , and we haven't heard any new records from you for 3 years .Do you have any new works at horizon ? Are there any specific reasons for this silence ?
Alex: After the release of the first OKKULT we did a lot of worldwide touring! Tours and shows in Europe, North America, Latin America, Russia and Asia. A few months ago we have played the first time in Belarus. Besides that we also have our second band LEAVES' EYES, and we released 2 albums in the meantime and did worldwide touring.
Tosso: We run MASTERSOUND STUDIO, and Alex works as producer for other bands in the studio, too. In addition to that we also have a new record company, Massacre Records, on which the band released album classics like BLUT, WILLENSKRAFT or WERK 80 already in the 90ies. We are very happy with this new album deal. All this together may explain the waiting time since our last release in 2013.
We would like to talk about your last American tour in together with Leaves' Eyes. Would you like to share your memories with us ?
Alex: Yeah! In 2014 ATROCITY did a full North American tour together with MOONSPELL and LEAVES' EYES and we also played on the awesome 70.000 Tons of Metal Cruise and Puerto Rico. It was quite demanding to play every evening two shows. Besides that it was a tour that reached from Carribean heat to snow storms and all kinds of weather you could ever imagine,haha.
Tosso: American fans are really great! It seems to me they are also very open minded to all kinds of metal as long as it kicks ass. That's why the billing ATROCITY, MOONSPELL, LEAVES' EYES worked very well and we had amazing reactions from the audience every night!
Can you give us any information about your current line up?
Tosso: We are four people in ATROCITY. Alex (Krull) is band member, founder, singer and producer in the band. Me and him as long time members form the core and songwriting team of the group. Joris Nijenhuis is our amazing lightning fast Dutch drummer since 2012. Pete Streit from Switzerland is a good old friend of us and plays guitar in ATROCITY since 2015. We always love to play together with other musicians and guest musicians too. It can help to broaden your horizon.
I have just observed that your albums are evaluated with highest rates and taken great feedbacks by reviewers on magazines in past.Personally I haven't seen any low ranked album of you by press and fans.What do you think?
Alex: Thank you, we always want to deliver the best we can and it's fantastic to get back great feedbacks for your hard work and all the passion you give into your music and in every little detail like we do.
Tosso: In the beginning of ATROCITY the band was highly treasured for its unique technical extreme metal style and high musicianship. When we released albums like WERK 80 or DIE LIEBE, some press people cherished us for founding a bridge between gothic and metal …others hated us for this haha. But in general the band is known for its' colorful creativity in the extreme music scene.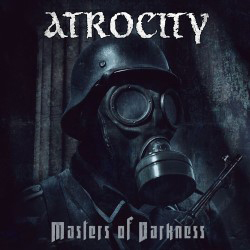 Okkult and lots of your old records were released as vinyl format at the same time last year.I need to mention that there is a huge attention for it from mainstream to underground music scenes.What are the reasons behind the popularity of vinyl format?Are music fans missing old days?
Alex: Vinyl was never "dead" or something, there were and will be always fans who want to hear their fave bands on vinyl only! I prefer to have a big cover artwork mayself. A real die hard vinyl maniac will always prefer the sound of a vinyl release.
Tosso: Yes, the return of vinyl has definitely a romantic element from the past. Besides that the covers just look much better than on a CD and you have something big to hold in your hands. Nowadays music is more and more traded in a digital way, so the vinyl has a very important role as a physical product again.
What are the most noteworthy changes in musical area if you compare 80s and today's music scenes ?
Alex: When we started in the mid 80s to play metal there was a bright field of unexplored musical territory right in front of us, especially in the extreme metal genre! We could be "Christopher Columbus" and explore a new world of music for ourselves! Probably because of this and our hunger for challenges ATROCITY became a pioneering band in the metal scene which is fantastic. We have done a lot of crazy stuff no other metal dared to do that time, especially in the 90s.
Tosso: I think as musician you had to work harder on yourself in the 80ies. Nowadays a lot of musicians think the recording software and technic has the job to make them sound good instead of their own playing abilities. But on the other hand its much harder nowadays to get attention, listeners and open ears. There is just so much music out there which makes it quite hard for new and younger bands in general to catch any spotlight.
I usually ask the same political question in my interviews to musicians.And this is about the reality we have been faced to in years all together. How can we solve the refugee problem and religious terrorism?
Tosso: Religious terrorism is complete madness! If people just focused more on their similarities and connections instead of their differences it would be much easier. Music can be such a connecting bridge. I also play Baglama Saz and Oud at home for example. As human beings we all want to be loved and accepted and valued. The idea of one group of people having the ultimate truth and wisdom and everybody else has to follow, is just not acceptable. The refugee problem is very difficult and complex. A lot of it has its roots in the big universal problem "Rich countries against poor countries of the world" . Every human being should fly once with a spaceship around the earth and then everyone would realize: We all live on the same planet, we are all brothers and sisters in a way.
Alex: It's a human desaster made by humans. Religion and politics are the downfall of humantiy, manipulation and brainwashing of people leads to hate and agony. It's up to ourselves to keep this madness away from us, especially the metal scene is a global scene, there are no boundaries in metal! This should be an example for every one!
Well,here we come to the classical part of my interviews. Questions with short answers!
Beer or whiskey ?
Alex: I don't drink alcohol- but I love alcohol free beer! And special German beer mix which is called "Radler"!
Tosso: BEER! In north america always PBR
Bar concert or festival concert ?
Tosso: Festival
How did you start to play your instruments ?
Tosso: I started with 6 years as guitarist
Alex: I played drums ages ago and I even played in a band called Corpus Christi haha But since Atrocity 1985 I'm the vocalist.
Digital media or print media?
Tosso: Both
Alex: Yes, both!
CD, casette or LP?
Alex: Probably CD but I bought a new vinyl player!
Tosso: You won't believe, I still have casette in my car,haha.
Thank you for your answers.Please last words?
Alex: Thank you for the interview and the support!! Enjoy the new EP "MASTERS OF DARKNESS"! "OKKULT II" will be out in July 2018!!!
Tosso: Thanx a lot for this interview. We already played 2004 in Istanbul which was awesome. I hope we can return to your country soon. Stay Metal!!